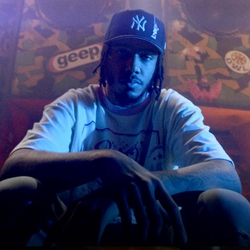 Ché Wolton Grant (b. March 4, 1994), better known as AJ Tracey is a British rapper, singer, songwriter, and producer.
Role in Gorillaz
AJ Tracey collaborated with Gorillaz in 2021 on the single Jimmy Jimmy from the Meanwhile EP. He performed the song live on the Song Machine Tour. On September 7, 2021 the Soundsystem Performance of Jimmy Jimmy was shown live on "The Tonight Show Starring Jimmy Fallon". On the same day AJ Tracey hosted a Q&A Livestream about Jimmy Jimmy on Gorillaz' Instagram.
Musical Career
Tracey's first mainstream EP, Secure the Bag! from 2017, entered the UK Albums Chart at number thirteen. In 2018, he released the single Butterflies which became his commercial breakthrough, peaking in the top 20 on the UK Singles Chart. His self-titled debut album, which was released in 2019 by Warner Records, received critical acclaim and peaked at number three on the UK Albums Chart. It featured his highest-charting single so far as a solo artist, Ladbroke Grove, which peaked at number three on the UK Singles Chart and was certified platinum by the BPI. In total AJ Tracey made two studio albums, six EPs, two mixtapes and one compilation and collaborated with Not3s, Digga D and Z.E among others.
Trivia