The official storyline of the virtual band members of Gorillaz, as established by music videos, Rise of the Ogre, "interviews" with the characters in magazines, interactive games on the official Gorillaz website, and social media.
Phase One: Celebrity Take Down (1997–2002)
This phase one plot summary is adapted from Rise of the Ogre, phase one interviews, The Apex Tapes, music videos, and phase one Kong Studios. The subtitle "Celebrity Take Down" appears on the phase one DVD of the same name.
The story of Gorillaz begins on August 15th, 1997. Stu-Pot was a mentally deficient keyboard enthusiast and part-time employee at Uncle Norm's Organ Emporium. Satanist hoodlum Murdoc Niccals decided to ram-raid Uncle Norm's Organ Emporium to procure synthesizer equipment in order to establish a "chart-topping" musical group. However, Murdoc ended up driving his Vauxhall Astra through the building and directly into Stu-Pot's head, permanently damaging ("fracturing") Stu-Pot's left eye and putting him into a catatonic state. Murdoc was sentenced to "30,000 hours of community service, plus 10 hours every week of caring for the injured Stu-Pot". Not long after, Murdoc again injured Stu-Pot in a car accident in Nottingham's Tesco car park when attempting a 360° in order to impress some women. During the initial rotation, he was thrown through the windshield and landed face-first on a curb. This permanently damaged Stu-Pot's right eye but revived him from his coma. Impressed by Stu-Pot's new look, Murdoc then recruited the newly recovered (albeit still mentally defective) Stu-Pot as the keyboardist and vocalist for his group, re-dubbing him 2-D for the matching pair of dents in his head from the accidents.
In September of 1997, Murdoc acquired the property of Kong Studios, a sprawling haunted studio with a rather shady history, situated atop a hill in the midst of a run-down cemetery and landfill in Districtshire, Essex.
Murdoc then found a drummer for the group in a Soho record store: African-American expatriate Russel Hobbs. Russel was a middle-class New York native and was deeply troubled as a youth. He was expelled from an expensive private school for suffering from demonic possession. The trauma of said possession resulted in a four-year coma from which Russel was roused only by an elaborately executed exorcism. After his recovery, Russel began attending Brooklyn High School, where he quickly cultivated friendships with a group of rappers, DJs, MCs, and street musicians. He has said that "hip-hop saved [his] soul."
This was a short-lived respite, however, as all of Russel's newfound friends were suddenly gunned-down one night in a drive-by shooting. Russel, the sole survivor, became the unwilling receptacle for the spirits of all of his slain compatriots, most notable of whom was the rhyme dropping blue phantom, Del. With their latent possession of his body, Russel gained incredible musical prowess in percussion, rap, and hip-hop as well as a disturbing side-effect: his eyes glowed an eerie white. With this new and violent turn of events, Russel's family shipped him off to England in hopes of helping him recover from his traumas quietly - not realizing they'd put him directly into the path of Murdoc's aspirations to superstardom, and the excesses that came along with it.
Russel met Murdoc in a Soho record store called, "Big Rick Black's Record Shack". When Murdoc asked for an obscure 50s record, he slipped a bag over Russel's head and took him to Kong Studios. Russel was impressed by the music Murdoc and 2D made and he chose to stay there.
At that point, all the fledgling group needed was a guitarist. Their first guitarist was 2-D's girlfriend, Paula Cracker, but she was shortly fired from the band after Russel caught her and Murdoc making love in the studio toilets. Disgusted by this, Russel broke Murdoc's nose five times (though Murdoc's nose was broken previous times before this). Like so many British bands before them, the trio placed an advertisement in NME. The very day the ad ran, a FedEx freight container from Japan was delivered to their doorstep and out jumped a mysterious amnesiac 7-year-old wielding a Gibson Les Paul. The tiny girl made an incomprehensible introduction in Japanese and tore into a "riff to end all riffs" which ended with an impressive karate kick to the air. She then bowed, and spoke a single word in English to the stunned boys, which became her moniker: "Noodle". After the band was finally assembled, they changed their name to Gorillaz. Their first song was called "Ghost Train" and was recorded at Kong Studios. Murdoc posted a copy of the song, some photos of the band and a manifesto over to Mr. Whiffy Smithy at EMI.
On November 5th, 1998, Gorillaz played their first show at the Camden Brownhouse which ended prematurely due to a riot during their song "Punk". EMI A&R man Whiffy Smiffy discharged several rounds from shotgun to disperse the crowd enough to make his way to the stage and quickly signed them to the label. The following evening, Gorillaz attended their record label signing party. The band was gifted a seven foot cheque, and the band also met a long time collaborator Damon Albarn. Damon would go on to be a influential part of the band, serving as a vocal coach for 2-D, however, Murdoc is very jealous of Damon and frequently attempts to poison him, and also steal his demos.
In December 1998, the band began recording sessions for their debut album, spending the entirety of 1999 recording at Kong. After a years worth of recordings, the band felt as though there was something missing from the album. The skeleton had been made, but it still needed flesh. the band decided to draft in Dan The Automator as producer to help provide extras. Dan's first move as producer was to move the album recordings over to the sun kissed beaches of Jamaica. from April to May 2000, the band recorded the final tracks in Jamaica, before production on the album finally finished in June 2000.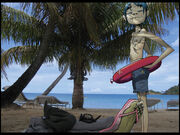 Upon returning to Kong after the completion of the album, the band began making plans for their first music video. The band initially sourced Italian director Paulo Skinbacio to direct the music video for the track "Tomorrow Comes Today".The truth is however, Skinbacio, 78, had never been on a film shoot in his life, the music video for the track premiered in a garbage bin outside the music label office. The band decided to fire Skinbacio, which led to him threating the band in German. Now needing to find another director, Damon Albarn suggested his old troublemaker flatmate Jamie Hewlett. Jamie was brought to Kong, and agreed to direct the video, Jamie would also be a huge influential part in Gorillaz, going on to direct and assist the band's entire videography.
Gorillaz made their public debut with the "Tomorrow Comes Today" EP and Tomorrow Comes Today music video on November 27th 2000.
On March 5th 2001, Gorillaz released their debut single, "Clint Eastwood". The song, and it's accompanying video would go on to give Gorillaz the push towards mainstream popluaritiy.
On March 22nd 2001, Gorillaz performed their second ever gig at the London Scala. The gig was televised live on MTV, and was available for rewatch on the band's website.
On March 26th 2001, Gorillaz self titled debut album, released to the public. The album was a huge success, charting No.3 on the UK albums chart, and No.14 on the US Billboard 200, going on to sell 7 million copies worldwide. Everyone was celebrating the release of the album, except for Murdoc, who's prized Winnebago was stolen the same day as the album's release. Someone over at EMI, had given away the Winnebago keys along with a copy of the album. The person in question who got ahold of the keys, was a man named Dr. Wurzel. Who started a GeoCities page where he would post photos of his many adventures with Murdoc's mobile home. An online craze began on the Gorillaz website, with Murdoc initiating a competition for fans to find his Winnebago. During this time, Dr. Wurzel leaked Gorillaz first track, Ghost Train, and a picture of the band when Paula was still guitarist. At some point in late 2001, Murdoc (or the authorities) apprehended the crazed doctor and returned the Winnebago to its rightful home in the Kong Studios Carpark.
In Spring 2001, the band began recording a music video for the track "5/4", but this was later scrapped in favor of a music video for the track "19-2000", which later released on June 25th 2001.
In Summer 2001, Gorillaz decided to tour Japan, however this lead to Noodle beginning to have melancholic feelings and thoughts. Not knowing her past, and feeling isolated from her homeland. Also during this time is when Noodle began to suffer from nightmares regarding her forgotten past. Russel decided to buy her a jetpack to cheer her up. During the Japan tour, Gorillaz noted that their popularity there wasn't as big as it was in other parts of the world. To attempt to boost album sales and popluaritiy Gorillaz came up with G-Sides, a compilation album that consisted of bonus tracks, b-sides, and remixes from the band's singles off their debut album. This had the desired effect, as G-Sides released later that December, and went on to sell half a million copies worldwide.
On September 11th 2001, due to the collapse of the twin towers, and closed airports. rap group D12, were left stranded in London. Gorillaz allowed the group to stay at Kong Studios for the time being, during this time the track "911" was born, which served as a response to the terrorist attacks on the World Trade Center. The track would later feature contributions from Specials frontman, Terry Hall. The song was released as a downloadable single later that winter on both Gorillaz and D12's websites.
In Fall 2001, the band embarked on a tour of Europe, not long after the tour the band released their 3rd single and final music video off their debut album, "Rock The House".
In Christmas 2001, Gorillaz released a series of little short's known as G-Bites which allowed fans to gain an insight on to how Gorillaz live off screen. Murdoc hosted an end of the year party at Kong Studios, which lasted from Christmas Eve, to New Years Day.
On February 20th, 2002, Gorillaz performed at the Brit Awards where they were nominated for 6 Brit Awards but won nothing.
From February 23rd, 2002 - March 11th, 2002, Gorillaz embarked on an 11-month tour of North America. The tour was met issues immediately from the beginning, as Murdoc was arrested as soon as the band arrived in America, due to an incident in Nebraska 15 years ago. Murdoc made it just in time to stage after paying for the $500,000 bail. During this tour, Noodle began suffering from nightmares again, which led to her losing much sleep. The band passed this off as a feeling of road fatigue and touring at a young age.
On February 25th 2002, the band released the final single off their debut album, which was a single re release of "Tomorrow Comes Today", but featuring two new B-side tracks instead of the previous ones.
The tour was going pretty well for awhile, until the disasterous show in Mexico on March 11th 2002. 2-D had eaten a spicy Mexican burrito the night before, and had diarrhea, Murdoc wacked a fan on the head with his bass, Russel had a heart attack mid show and needed vitamin injections, Noodle was on a trigger due to no sleep, one of Siegfried & Roy's tigers got drunk and stole a motorcycle, and to top it all off, a giant inflatable gorilla head crushed several kids, who had to wait 48 hours before they could be set free.
After the end of the tour, Gorillaz took a six-month break in L.A on March 13th. There they attempted to get a movie project off the ground. The band played their last gig together at the Isle of MTV Festival in Portugal on July 20th. At the end of the gig, a fan asked Murdoc to sign a CD for him, the CD in question being a release from a group associated with Gorillaz, that he didn't even know of: these were the Spacemonkeyz. Three chimps, who were tested lab monkeys that were sent up to space. Upon arriving back to Earth, the chimps stumbled upon Kong Studios, after 2-D had accidentally left the studio front doors before the band left for the tour, which allowed the Spacemonkeyz to break in, and steal the master tapes for the band's album. The Spacemonkeyz created the remix album "Laika Come Home" which released on July 1st 2002.
Alas, the film was not meant to be, due in part to extensive over-partying, in-fighting, and disagreements with producers, directors, and a notable incident of Murdoc getting himself banned from the Playboy Mansion for stealing ashtrays. Gorillaz tried to create a movie, but everyone was too concentrated on doing drugs and hanging out with celebrities. Murdoc almost got a TV show, but they replaced him at the last minute. During the film's production, the band worked with director Alfred C. Klinker, who kept changing the film's script everyday, this led to the band eventually firing Klinker, and deciding to check into a Hollywood motel to write the film themselves in August 2002. However, this did not work, as constant fights broke out between the band members, and sense of distrust was grown between everybody. It all came to a head, when one fight led to Murdoc attempting to strangle 2-D to death. Russel and Noodle broke up the fight, but Murdoc finally sick of it all, walked out of the motel, and ended Gorillaz there and then.
Phase Two: Slowboat to Hades (2002–2008)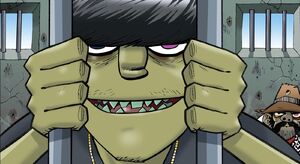 This phase two plot summary is adapted from Rise of the Ogre, phase two interviews, We Are The Dury, music videos, and phase two Kong Studios. The subtitle "Slowboat to Hades" appears on the phase two DVD of the same name.
After attempting to kill 2-D and leaving Gorillaz, Murdoc headed off to Mexico to get some sun and relax, however after using fake dud cheques at a brothel, Murdoc was arrested and sentenced to thirty years at La Mesa State Prison on October 31st 2002. During this time, Murdoc met cellmates who taught him a bit of black magic, and acquired himself a pet raven named Cortez.
Meanwhile, that same evening, Kong Studios had been shut down tight in its owner's absence by local law enforcement after an unknown man was seen running, naked and in hysterics, in the marshes near the studio. The police proceeded to keep the area secured while they investigated the strange paranormal events surrounding Kong.
After Murdoc left, the next to leave was Noodle. Noodle went back to Japan in a fruitful attempt to uncover the secrets of her own past after suffering from nightmares and visions on the Gorillaz Tour. Noodle left for Japan on October 1st 2002, she checked into a capsule hotel, and began her search.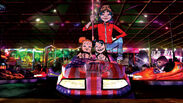 2-D was the next one to leave, 2-D headed out into the world of L.A., rubbing elbows with Brian Setzer, joining The Viper Room Club, and moving into an apartment flat with actress Britt Ekland. However, after Britt spent every night banging on the walls and building a wicker statue, and getting sick of the Los Angeles life style, 2-D decided to go back to Eastbourne and work at his father's funfair. 2-D returned to England on November 25th 2002. It was during this time 2-D's ego got a significant boost and he re-established his grip on reality, coming to terms with his newfound pop icon status with the ladies. He also began a friendship with Shane Lynch from Boyzone. 2-D also began to grow a resentment for Murdoc, breaking free of adoring his abuser.
Russel remained in L.A for sometime but became increasingly haunted by the Grim Reaper, who eventually banished Del from his body. Luckily, Russel was approached by Ike Turner who offered him sanctuary in his basement to recover.
After a year of searching in Japan, Noodle was close to giving up on her search, she decided to head down to a sushi bar in downtown Hong Kong, to eat in woe. While she was there a waitor called for an order of "Ocean Bacon" and all of Noodle's memories came flooding back. she was reunited with her mentor, Mr. Kyuzo who was working as a chef at the establishment and learned that she was part of a secret government super soldier project and could speak English fluently. Noodle was the only survivor after the project was scrapped. Mr. Kyuzo erased Noodle's memory using the words, "Ocean Bacon" and sent her off to England in the FedEx crate. Armed with her newfound knowledge and iron resolve, Noodle decided to return to Kong Studios. on October 27th 2003, Noodle returned to Kong, and discovered that the building had fallen under a state of disrepair during the band's absence. She also discovered that the building was invested by zombies and a monster infested darkness. Using the Kong security room as a safe house Noodle slowly cleaned the building of it's unwanted inhabitants. Now knowing English, Noodle began to soak up what was playing on her TV in the security room, and discovered society was being fed manufactured shit. It was here that Noodle began writing and putting together the concepts of the band's sophomore album "Demon Days".
While Noodle was clearing Kong, Russel was still recovering in Ike Turner's basement, it was here that Russel began recording demo's for a solo hip hop album. However, after seeing hallucinations of demons flying out the speakers, Russel decided to bury the demo tapes, believing that they were causing several world problems.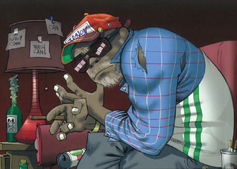 Finally, in February 2004, Noodle finally cleared Kong of the undead and began contacting her bandmates, but Murdoc was still in prison!
After spending a year in jail, Murdoc's patience began wearing thin, he teamed up with his cellmates and escaped from La Mesa State. He returned to the Chicken Choker brothel, to commit the same crime he did before, then heading over to the airports, and flying back to England.
Noodle texted her bandmates, and on March 3rd 2004, 2-D, Murdoc, and Russel returned to Kong Studios. Gorillaz were together again. The band caught each other up on what they had been up to, before Noodle unveiled her Demon Days project. Recording for the album began the next day.
Noodle drafted in Damon, and producer Danger Mouse to help out with the record. The main story of Demon Days was to depict a post 9/11 world, with each track dealing with a different topic/demon. Noodle also set out to make the album prove that Gorillaz were more then a marketing ploy gimmick, as many critics accused of Gorillaz in regards to their last album. Recordings completed in November 2004. A month later on December 12th 2004, Gorillaz announced their comeback with the release of a new music video for a new song called "Rockit." Along with this was Noodle setting up the "Search For A Star" contest. A competition in which fans could submit themselves doing a talent, and submit said video or piece of artwork to Gorillaz website. Gorillaz also launched the Reject False Icons campaign, which encouraged fans to reject false celebrity icons. The cherry on top of all of this was a complete renovation to Kong Studios, new rooms and new minigames for fans to explore and interact with.
on May 9th 2005, Gorillaz released the first single and music video off their Demon Days album "Feel Good Inc." featuring De La Soul. The song and video was a huge success. Once more bringing Gorillaz mainstream, charting increasingly well, and properly replacing Clint Eastwood as Gorillaz signature tune.
On May 23rd 2005, the "Demon Days" album released, the album received critical acclaim, topped many charts, sold millions of copies, and was listed on various publications lists of the best albums of 2005, and the best albums of the 2000s.
From June 6th - June 22nd, Gorillaz embarked on The Demon Detour; a series of live radio shows throughout America. Like always however, issues immediately began, when the band's tour bus was being shot at consistently every night. The band tried putting together who was shooting at them, suspects included Paula Cracker, Paulo Skinbacio, Alfred C. Klinker, Dr. Wurzel, and Noodles Government Bosses. To keep his mind stable, Russel began experimenting with taxidermy during this time. Eventually, the band getting sick of being shot at every night (as someone probably would), Murdoc decided to take things into his own hands, asking the tour manager Jimmy Manson, to see what he could do about the shootings. The next night, shootings stopped, and the tour continued as usual.
After The Demon Detour, the band returned to Kong, where Noodle hatched secret plans for the 2nd Demon Days music video. Noodle recorded the "DARE" music video, without letting any of the other band members know. The single and video later released on August 29th 2005, reaching No.1 on the UK Singles Chart, being the only Gorillaz single to do so.
Later that same summer, Gorillaz headed off to the deserts of Africa to record the music video for the track "Dirty Harry" featuring Bootie Brown. The single and video later released on November 21st 2005.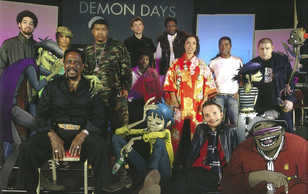 After the "Dirty Harry" shoot, the band returned to Kong, tired and double booked. The band was set to perform at the MTV EMA's, while also set to perform a five night concert at the Manchester Opera House. To fix this dilemma, the band drafted in Damon and the Demon Days collaborators to perform the album live. From November 1st - 5th 2005, Damon and his live band performed the Demon Days album live at the Manchester Opera House. The band attended these gigs in the audience for the first show, before heading over to Lisbon to perform "Feel Good Inc." at the MTV EMA's.
Later that Christmas, MTV Cribs released an episode where they receive a tour of Kong Studios from Murdoc Niccals. Murdoc also delivered the Queen's speech that Christmas Day.
On February 8th 2006, the band headed back over to America to preform "Feel Good Inc." at the Grammy's. After the award show an after party was held at Dennis Hopper's, in which Murdoc got into a drunken fight with ex Archies member, Jughead Jones, who claimed Gorillaz was a rip off of his band.
On February 15th, 2006, Gorillaz performed "Dirty Harry" at the Brit Awards featuring a huge choir of children and guest star, Bootie Brown.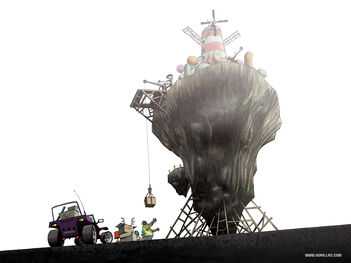 Following the BRIT Awards, the plans began to be made for the final Demon Days music video. Murdoc received contacts from The Demon Detour tour manager Jimmy Manson, who revelated he had been following Gorillaz for awhile. He initially tried out for the guitarist role but was rejected upon Noodle's arrival, he stalked the band for sometime during their time in Hollywood in 2002, and finally got a gig as the tour manager for The Demon Detour. Manson reveled that he was the one behind the shootings and he pitched an idea to kill Gorillaz and cash in on their success. Murdoc agreed to this, and came up with an idea for the track "El Manana". Murdoc pitched the idea to Gorillaz and Jamie, in the video, Noodle would be on the windmill island from "Feel Good Inc.", and the island would be shot down by copters, Noodle would have a parachute, and the copters would have fake bullets. The rest of the band were a bit reluctant to this idea, but ultimately gave in. Especially Noodle who wanted to leave Gorillaz for a break, and had already packed all her stuff up in her room. She planned to leave straight after the filming of the "El Manana" video shoot. Murdoc and Jimmy hatched out the plan, in which Manson would hide out inside the windmill tower with guns, and come out and shoot Noodle. On March 7th, 2006, Gorillaz started the shoot for "El Manana" which starred Noodle on windmill island. Halfway through the video, the island was shot down and exploded as planned. However, after the video's shoot, Noodle was nowhere to be found, leaving behind a used parachute, panic exploded on set. Manson had never come out and shot Noodle. This was because Murdoc had actually double crossed Manson, by locking him inside the windmill, with the guns. The island crashing, with Jimmy Manson perishing along with it. In an attempt to calm fans and save face, Murdoc lied and said that Noodle had escaped by parachute and was chilling out in Maldives. In reality, Noodle was missing and supposedly dead. Murdoc noted that the copters that shot down the island, were not the same fake copters from "Feel Good Inc." but were actually real helicopters that came and shot down the island. Meaning that Noodle was being shot down with real bullets in the video and was not acting. The "El Manana" single and music video later released on April 10th 2006. Following Noodle's disappearance, Kong began falling under a state of disrepair once more, as if her presence was the only thing keeping the building alive.
Shortly after the video's shoot, Damon and the live band once more performed a residency of five shows at New York's Harlem Apollo from April 2nd to April 6th 2006. 2-D and Murdoc attended these gigs in the audience, while Russel stayed behind at Kong. After the Apollo gigs, 2-D and Russel left Kong Studios, while Murdoc stayed behind by himself in the crumpling building. 2-D headed off to Jamaica to get a degree in law, while Russel put together and toured a new Gorillaz project Gorillaz Sound System, a project in which Russel performed remixes of Gorillaz tracks live. Later that year, on October 26th 2006, Gorillaz released their autobiography Rise Of The Ogre, the same day as the book's release, an emergency transmission from Noodle was received in the Brain Room at the ruins of Kong Studios. Murdoc discovered that the coordinates of the transmission were being transmitted from the depths of hell. Murdoc attempted to travel through the bowels of hell in order to bring her back but failed. Following the rescue attempt, Murdoc put Kong Studios up for sale, and headed off on a bender around the world. During this time, Murdoc released another compilation album, "D-Sides". Similarly to "G-Sides", D-Sides consisted of the bonus tracks, b-sides, and remixes off the singles of Demon Days. The album released on November 19th 2007, and performed similarly to G-Sides. Not long after D-Sides, director Ceri Levy was preparing on releasing a Gorillaz documentary titled Bananaz. The documentary was about the making of Gorillaz first two albums from the perspective of Damon and Jamie. The documentary premiered in Berlin on February 7th 2008. Murdoc responded to the documentary via a drunken threating voice message to Ceri. An online war began between Murdoc and Ceri, which resulted in Ceri leaking a audio tape of Murdoc having sex. Murdoc called off the war following the leak.
Phase Three: Escape to Plastic Beach (2008–2013)
This phase three plot summary is adapted from music videos, animated shorts, Murdoc's Pirate Radio, social media, phase three interviews, the Plastic Beach adventure game, and the Escape to Plastic Beach World Tour. The phrase "Escape to Plastic Beach" was the marketing tagline throughout the phase, as well as the name of its world tour.
Following his bender, Murdoc began to run low on money, so on July 25th 2008, Murdoc burned down the ruins of Kong Studios, cashed in on the insurance money, and blamed the fire on some kids. Murdoc attended the opera Monkey: Journey To The West, as an alibi. Following the opera show Murdoc fled the country. He also mentioned that part of the reason for the move was to flee from a deadly underground network of pirates simply referred to as the "Black Clouds", who were out to kill him after their business deal went south. Though this isn't the first time the Black Clouds have interacted with Gorillaz. As the Black Clouds had done business with Murdoc before, which also went south. This led to the Black Clouds being the copters that actually shot down Noodle in "El Manana".
While searching the world for a new hideout, Murdoc discovered an island in the middle of the ocean made entirely out of landfill stuck together. He sprayed the island bright pink and used the insurance money to build a new Gorillaz HQ on top, renaming the island, "Plastic Beach." According to the pelican at the entrance of the building in the Plastic Beach adventure game, Plastic Beach is the farthest point from any other landmass in the world, dubbed "Point Nemo". After finding the island, he shipped a lot of the band's belongings to Plastic Beach, their new home. While residing on the island, Murdoc began writing and putting together the concepts for the third Gorillaz album "Plastic Beach", but he had to reassemble his bandmates.
Murdoc said he tried to recover clues to Noodle's whereabouts from the wreckage of the windmill from "El Mañana," but the most he could obtain was a DNA sample. He later used her DNA to create a violent cyborg version of Noodle, who acts as his bodyguard. Cyborg Noodle doesn't speak, but is adept at firearms and replaces Noodle as the band's guitarist.
After failing to get a degree in law 2-D left Jamaica, and headed off to Beirut to live by himself. 2-D was gassed, kidnapped on his Beruit retreat, and taken to Plastic Beach in a suitcase as shown in 2-D's Plastic Beach Ident short. While the short seemingly reveals the Boogieman (the embodiment of all worldly evil who was sent by Satan to claim Murdoc's soul), as his kidnapper, 2-D believes Murdoc was the one who kidnapped him. 2-D was held at Plastic Beach against his will by Murdoc, who forces him to assist in the making of the next Gorillaz album. 2-D fell under depression during this state in his life, being held captive and abused by Murdoc and Cyborg Noodle, being watched by his biggest fear a whale, missing his bandmates, and being forced to withdrawal from painkillers.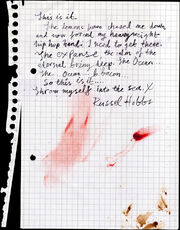 Little was known about the fate of Russel initially, Following Gorillaz Sound System, Murdoc mentioned he had essentially dropped off the face of the earth. Murdoc mentions that he used a drum machine built from all of Russel's equipment to provide percussion for his album. Finally, Russel's Plastic Beach Ident short hit the website, showing him stomping down a fishing dock in a barely suppressed rage and jumping off the end into the ocean, possibly attempting suicide as shown from a letter he left behind. Following his attempt, Russel let his body float out to sea. During this time, Russel ingested so much pollution, trash and toxic waste that he was transformed into a giant as tall as all of Plastic Beach, making a reference to Gulliver's Travels. Russel's situation reinforces the idea of human excess destroying nature already present on the album.
Murdoc and 2-D proceed to make their way to Plastic Beach via a road trip to the ocean in a 1969 Camaro SS (dubbed "Stylo'). Murdoc and 2-D are attacked by Bruce Willis, driving a 1968 El Camino. Cyborg Noodle is rendered useless due to a bullet through her head, and Willis opens fire on the two, resulting in a car chase that makes up the Stylo video. Murdoc drives them off a cliff into the ocean, and the car transforms into a shark-shaped submarine. The car chase was recorded on film by Murdoc's personal camera crew and was edited to make the music video for the "Stylo" single which later released on January 26th 2010.
The Plastic Beach album was later released on March 3rd, 2010. The album received critical acclaim from critics. With various publications listing it as one of the best albums of 2010, and the best albums of the 2010s. Despite the cult following, the album did not sell well or chart high upon it's initial release.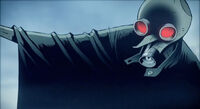 In the "On Melancholy Hill" video, Noodle is revealed to be alive and in hiding. She is seen escaping a cruise ship that is under attack by the Black Clouds. Meanwhile Murdoc, 2-D, and the newly recovered Cyborg Noodle, along with all the collaborators for the Plastic Beach album, make their way to Point Nemo together, traveling side by side in an armada of underwater vehicles. Upon arriving in a thick fog, Murdoc sights the Boogieman and orders his Cyborg bodyguard to open fire. The Boogieman escapes, leaving the fog to dissipate and reveal Plastic Beach. While drifting off in sea, Russel finds the sea-stranded Noodle and rescues her, and together they continue on to be reunited with the rest of the band. the music video and single for "On Melancholy Hill" later released on June 12th 2010. Although initially under performing, the song would later go on to be another one of Gorillaz most famous tunes, behind Clint Eastwood and Feel Good Inc.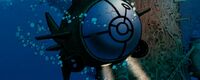 On November 21st, Gorillaz released a new single called "Doncamatic" featuring Daley. The music video for the single featured Daley piloting a one-man submarine through the depths of the ocean on his way to Plastic Beach.
From October 3rd - December 21st 2010, Gorillaz set off on their first world tour; "The Escape to Plastic Beach World Tour." Unfortunately, Murdoc, 2-D and Cyborg Noodle spent the entire tour locked in the dressing room while a Gorillaz "live band" took over the stage.[1][2] Murdoc suspected that when he refused to give his soul to Satan for making Gorillaz successful, he kept the real Gorillaz out of the shows and gave the glory to the Gorillaz live band. The live band consisted of Daman Albarn and half of The Clash.[3]
During the American leg of the tour, 2-D had been working on a new collection of Gorillaz music on his iPad. He had been experimenting with new sounds and apps in various locations during the tour, including his hotel room, backstage in the dressing rooms, and in the back of the tour bus.[4] This collection of new music would become, "The Fall." It was released on Christmas Day in 2010 to stream for free on the band's website, as well as a download for members of the Sub-Division fan campaign. The album was given an official release on April 18th, 2011. The only single off the album was a double-sided single featuring the tracks, "Revolving Doors"/"Amarillo".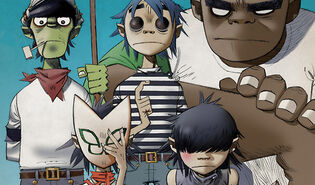 The storyboard music video for "Rhinestone Eyes" reveals that the Boogieman has a grudge against Murdoc due to a deal they made and that the Boogieman is the fifth rejected Horseman of Apocalypse, named "Flatulence". In the video, we see the Boogieman summon the Gorillaz "live band" who are revealed to have been part of the Black Clouds the whole time.
More Black Clouds raid Plastic Beach in planes similar to the ones that attacked Noodle, in an attempt at Murdoc's life. The album's collaborators, along with Cyborg Noodle, arm themselves with guns and retaliate, while Murdoc hides for fear of his own safety. 2-D, who is deathly afraid of whales, is frightened senseless when a whale nearly rams the underside of the island during the battle. However, just as it closes its jaws around the underwater window of 2-D's room, Russel appears and hurls the whale into an enemy plane, destroying it. Russel then leans onto the Beach and opens his mouth, revealing the real Noodle. Noodle then takes off her mask, revealing scars around her eye.
It was later revealed that Murdoc hired an imposter known as The Imposter Murdoc to take his place on the island while he made his escape in an attempt to trick the Boogieman into collecting the wrong soul, once the Boogieman had collected the soul of The Imposter Murdoc the debt was fulfilled and the grudge between the two was set aside.[5]
Original/retconned ending
While escaping Plastic Beach, Murdoc was caught up in a typhoon and eventually landed in Hawaii. There, he began to record a radio show to celebrate Gorillaz' Ten Year anniversary. It later revealed that he wasn't in Hawaii at all, but was instead in a ransacked house at 212 Wobble Street, London, where the other three members managed to reach him.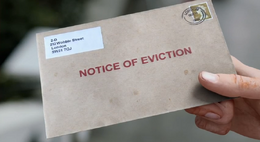 In early 2012 the four remaining band members were seen living at 212 Wobble Street, London (as seen in the "DoYaThing" music video). 2-D is seen checking on Noodle as she sleeps. Most of her facial injuries appear to have healed. The Boogieman was also revealed to still be alive and lived in with the band, reading a newspaper. Russel is later seen sleeping on the roof of the row house as 2-D receives a letter stating that the band was being evicted from the residence. The floating windmill island can be seen in a state of disrepair and anchored to the roof of the building. This was later deemed non-canon by Jamie Hewlett,[6] with phase four beginning directly after the events of the "Rhinestone Eyes" video with events contradicting what had originally been established in 2011's tenth anniversary radio special and 2012's "DoYaThing" music video.
Phase Four: We Are Still Humanz (2013–2018)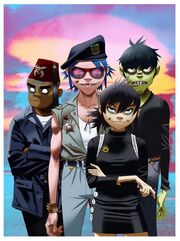 This phase four plot summary is adapted from social media, music videos, the phase four app, Demon Dayz Festival 2017, G Magazine, and phase four interviews. The phrase "We Are Still Humanz" was a social media hashtag used to promote the album in the lead up to its announcement.
During the attack of Plastic Beach, Murdoc escaped the island with Cyborg Noodle in a submarine. On his way home to England, Murdoc was captured by EMI, the now-defunct former publisher of Gorillaz' music. EMI had been searching the globe for Murdoc, who they threw in "Dungeon Abbey", a secret prison beneath Abbey Road Studios. Murdoc was eventually released under the condition that he was to immediately begin work on a new Gorillaz album. Murdoc agreed and moved into a new studio/home in West London.[7]
Shortly after the attack on Plastic Beach, Noodle awoke in a small Japanese village and began working as a pearl diver under the apprenticeship of Chiyoko, the women who had nursed her back to health after finding her washed up on the Japanese shore. While working one day, Noodle accidentally released Mazuu, a shape-shifting devil that had spent over 500 years trapped in a large pearl at the bottom of the ocean. Noodle spent years chasing Mazuu, finding it in Tokyo disguised as a human, having risen the criminal underworld. Noodle infiltrated Mazuu's headquarters, decapitated Mazuu, and escaped in one piece. She packaged herself in a FedEx crate and addressed it to "West London, England, c/o Murdoc Niccals".[8]
While escaping Plastic Beach with Noodle, Russell had gotten separated off the coast of Japan. Being mistaken for a whale (due to his unusually large size) he was harpooned but managed to escape. He lost consciousness and washed up on the shores of North Korea, where he was carried to Pyongyang and exhibited as "Pulgasari", North Korea's "Godzilla". Russell became the country's most popular attraction before shrinking back to normal size due to malnutrition, after which he was sent back to London where he moved into Murdoc's home in West London to create a new Gorillaz album.[9]
During the attack of Plastic Beach, 2-D was swallowed whole by "Massive Dick", the whale that terrified him throughout his time spent on the island. Shortly after, Massive Dick died and washed up on the shore of a desert island. 2-D emerged from the whale's carcass and spent months surviving solely off of Massive Dick's dead body, before realizing he was actually on Guadalupe Island off the coast of Mexico. He walked thirty minutes before finding a beach resort and spent the rest of the year there on vacation before finally heading home to England where he was picked up by a driver Murdoc hired and was reunited with the band.[10]
The band recorded throughout 2016 at Studio 13, Murdoc's secret new studio in London, finally completing their first album in 7 years, Humanz, in 2017. Murdoc decided to release the album by throwing "the party to end all parties" in a haunted house in Detroit known as the "Spirit House". [11] When the band first arrived at the house in the "Saturnz Barz" music video, they were haunted by three demons. A giant one-eyed blue worm haunted Noodle, a gray multi-limbed monster haunted Russel and a pizza slice with a face haunted 2-D. In the "Strobelite" music video, Noodle and 2-D have fun dancing at the party, while Russel sleeps and Murdoc does shady business with a mysterious man at the bar.
In June 2017 a song/music video called "Sleeping Powder" was discovered in 2D's room in the Gorillaz app. Later the same day, the video was released to the public, and one week later, the song was officially released as a single on digital platforms. 2D recorded the song and music video himself as a response to fans who criticized Humanz for having too many collaborators and not enough of 2D's voice.
The band went on a world tour, and even created their own festival called the Demon Dayz Festival. The first of which took place in Margate, England in June 2017. Before Gorillaz took the stage at Demon Dayz, a mysterious cult called the "Kool Klown Klan" were spotted holding bells and marching. Little is known about the cult, but they are referenced in the lyrics and imagery of the Humanz song "Momentz".
In December 2017 the band released their own Magazine called G Magazine. The 34-page magazine features insights from the band on Humanz, editorials from each Gorillaz member, and an interview between the band, and their own co-creator Jamie Hewlett. In February 2018 the band won the Brit Award for Best British Band. While attempting to accept his award, Murdoc was arrested and taken to HM Prison Wormwood Scrubs in London for an undisclosed crime.
Phase Five: No More Unicorns Anymore (2018–2019)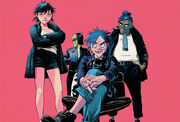 This phase five plot summary is adapted from Free Murdoc, music videos, social media, phase five interviews, Demon Dayz Festival 2018, and The Now Now Tour. The phrase "No More Unicorns Anymore" is the first and most prominently used of several marketing taglines associated with the phase.
Hot off the heels of their big return album with Humanz in 2017, the band decided to continue their momentum and release a follow-up album in 2018. The band hired Ace of The Powerpuff Girls fame to temporarily replace Murdoc as bassist while he was serving time in prison, and released their album, The Now Now.
In the "Humility" music video, Russell, Noodle, and Ace enjoy their day on the Venice Boardwalk in Los Angeles while uncharacteristically happy 2D roller-skates around the boardwalk, enjoying his new life without Murdoc constantly abusing him. At the end of the video, Russell trips 2D, whose eyes turn from white to black. After which, he loses his ability to roller-skate and immediately falls a second time.
While the band embarked on their 2018 tour supporting The Now Now, Murdoc began planning his escape from prison. Murdoc claimed that the man he met at the bar in the "Strobelite" video was a demon crime-lord named "El Mierda", who framed him for smuggling. Murdoc decided to escape the prison and track down El Mierda, but he couldn't bribe his way out since Noodle had frozen his bank account, believing him to be guilty of smuggling. He decided that picking a fight with "Big Balls McGuinness" (one of the toughest prisoners in Wormwood Scrubs) would give him the respect he needed to get inside info on El Mierda from other prisoners. After losing the fight to Big Balls, he set his sights on "Vlad the Inhaler", an associate of El Mierda. Murdoc recruited a fan to catfish Vlad, getting close enough to him to find the whereabouts of El Mierda. Astonishingly, this worked, and Murdoc now had coordinates he believed to be the crime lord's hideout in Patagonia.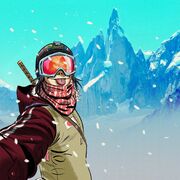 Murdoc finally enlisted the help of Noodle, who had been ignoring his countless calls. She only agreed to help after realizing the demon El Mierda is a soul harvester and may have taken 2-D's soul, noting he hasn't been acting like himself for months. Convinced Murdoc knows about this, she refuses to do it for his sake but instead 2D's. Noodle set course for Patagonia to take on El Mierda herself. A week later, Noodle reported that she was safe - still embarking on her trip to El Mierda's hideout, being shown the way by some Andean mountain cats after getting "kinda lost". However, due to complications, Murdoc had decided to escape once and for all singlehandedly through the sewers. In a turn for the worst, he was assumed to have drowned in sewage while trying to escape. Meanwhile, the rest of the band were enjoying the success of The Now Now, releasing a music video for the song "Tranz".
Two weeks later, Noodle arrived at the coordinates Murdoc had discovered, but instead of a secret hideout, the coordinates led to a health spa. She met El Mierda, who had given up his life of crime years prior, converting his evil lair into the El Montaña Wellness Centre. Notably, she discovered that El Mierda was not the man Murdoc met in the "Strobelite" video, but was, in fact, an immortal old man who had never even heard of Murdoc. Noodle researched the details of Murdoc's incarceration to discover that he was not sent to prison for smuggling but rather simple parking fines. He was only meant to serve nine months and would have been released the same day he supposedly drowned during his escape. Noodle discovered that Murdoc had greatly fabricated the nature of his imprisonment, blaming his crime on the man from the "Strobelite" video, who turned out to just be an innocent leather salesman named Juan.
Moments later, a yak arrived at the El Montaña Wellness Centre. Noodle went to investigate to find Murdoc tied to the top of the yak. It turned out that Murdoc was simply acting out for attention, making up an imprisonment story that he described as "mostly bollocks". But as his story grew more outlandish he felt a need to continue keeping up appearances, resulting in an unnecessary prison escape that nearly had him killed. The only clue to why he survived has been a mysterious person or thing he saw while in the sewer, which he later sketched out. His near-death experience gave him the epiphany that headlines weren't worth lying and putting Noodle in unnecessary danger. He decided to meet Noodle at El Mierda's hideout, tying himself to a yak he named Madge after Madonna. Murdoc was even prepared to sacrifice himself to save her if need be, luckily this was unnecessary and when he arrived, the two simply spent a few days at the health spa while Murdoc apologized for his actions. After learning the true nature of El Mierda, the two discerned that 2-D's difference in character was simply him enjoying his new-found confidence without Murdoc around abusing him, or as Murdoc put it, "just missing me". When Noodle and Murdoc returned to the band, Murdoc vowed to be a better man and joined them on the final leg of The Now Now Tour.
Towards the end of 2018, the band teamed up with Casio to produce a line of Gorillaz G-Shock watches. The band released a promotional web-series to advertise the line of watches. The series, titled "Mission M101" follows the band on an intergalactic adventure, teaming up with G-Shock founder Kikuo Ibe to release their line of watches across the galaxy. On October 20th, the band performed at the Día de Muertos themed Demon Dayz Festival 2018 in Los Angeles. Four days later, the band played their final show of The Now Now Tour in Mexico City, Mexico.
Phase Six: Wish You Wear Ear (2019–)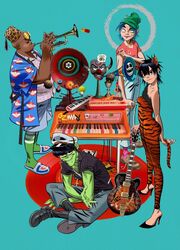 This phase six plot summary is adapted from social media, music videos, Machine Bitez, Get Lost with Gorillaz, Gorillaz x Fred Perry, and phase six interviews. The phrase "Wish You Wear Ear" appears as cover art for a series of Spotify playlists shared by the band as the start of phase six alongside its first official artwork.
During a brief hiatus for the band, on the 3rd of September 2019 while visiting Iran to see Lake Urmia, Noodle made note of how climate change had taken a toll on the lake. She came to a realization regarding the fleeting state of nature on Earth, and sent a post-card to Murdoc, 2D, and Russel at Studio 13 with a message detailing her desire to build a machine and see the world before it's gone. The post-card arrived at Studio 13 on the 12th of September.[12]
On the 7th of September, 2D sent a post-card to the band while visiting Beirut, informing Noodle that he got the parts for the machine she had mentioned, asking what they were for. The post-card arrived at Studio 13 on the 24th of September.[13]
On the 14th of September, Murdoc sent a post-card from his annual drunken holiday in Ibiza. The post-card arrived at Studio 13 on the 26th of September.[14]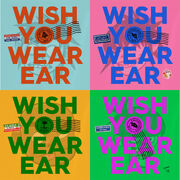 On the 21st of September, Russel sent a post-card from Mexico while working on his hot sauce business, "Hobbs Hot Sauce". He included a message telling the band that he'd "be seeing [them] and the machine REAL soon". The post-card arrived at Studio 13 on the 4th of October.[15]
Season One: Strange Timez (2020)
The machine (revealed as the "Song Machine") was activated on the 28th of January.[16] The following day, the band announced their next project, Song Machine, a multimedia series of songs/music videos released episodically through 2020, as a continuously-updating playlist via streaming services.
In a statement to the press, Russell said "Song Machine is a whole new way of doing what we do. Gorillaz breaking the mould 'cos the mould got old. World is moving faster than a supercharged particle, so we've gotta stay ready to drop. We don't even know who's stepping through the studio next. Song Machine feeds on the unknown, runs on pure chaos. So whatever the hell's coming, we're primed and ready to produce like there's no tomorrow. Y'know, just in case."[17]
Throughout the course of the series, the band collaborates with musicians they've met on their various trips around the world, inviting them to record at their now renamed West London studio, officially dubbed the new Kong Studios.[18] In the music video for "Désolé", 2D, Noodle, and Russel travel to Lake Como via a mysterious teleporting door in Kong Studios and record with Fatoumata Diawara. Murdoc is left behind and unable to reopen the portal, leaving him lonely and depressed at Kong. When questioned about this, Murdoc claimed he wasn't upset about being left behind and didn't care about their trip to Italy. Shortly before enviously asking 2D and Russel about portals just "in case [he] ever [needs] to find one for future reference".
In the face of a global pandemic, the band practiced social distancing, sequestering themselves in various parts of Kong Studios.[19] Murdoc locked himself in Kong's basement, explaining how he was working on "something big" that would "change the effing world". After a look through his online purchase history, this "something big" appears to have involved nearly £500 worth of pine wood and a blow up doll.[20] Meanwhile, Russel caught up on television while experimenting with an assorted variety of food/entertainment combinations.[21]
As the months passed, Murdoc continued providing social media updates regarding his secret project, before finally unveiling it in the music video for Pac-Man.[22][23] This special project, his very own orgone accumulator (based on the pseudoscientific concept of Wilhelm Reich), was built solely by Murdoc in the basement of Kong Studios. Throughout the video Murdoc can be seen contentedly sitting and relaxing in his creation, which in an act of jealousy and defiance, he claims can also act as his own private teleportation portal despite not showing any interest or apparent ability of opening a portal of any kind.
In the Strange Timez music video, the band took a trip through space to destroy a billboard on the moon. In the music video for The Valley of the Pagans, the band traveled through a portal to Los Angeles for a drive around the city before abruptly falling through another portal leading them to Plastic Beach.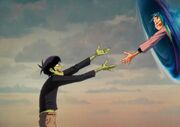 In the music video for The Lost Chord, the band found themselves back at Plastic Beach ten years after the Black Clouds' attack on the island. Past trauma resurfaced as they explored the remains of the island. Murdoc is seen overcome with guilt at the sight of a damaged and deactivated Cyborg Noodle. Soon after, a sea monster awoke from the depths of the ocean and began destroying the island. The deactivated Cyborg Noodle is seen opening her eye as she lifelessly sinks to the bottom of the ocean. A portal back to Kong suddenly opened up as the ruins of the island sunk into the ocean. 2D, Noodle, and Russel escaped as the portal closed, leaving Murdoc stranded in the ocean. In the spirit of friendship and forgiveness, 2D quickly reopened the portal and reached out, saving Murdoc's life.
Season Two (2021–)
In May of 2021, a demonic sinkhole temporarily opened beneath Kong Studios, leaving it inoperable for a few weeks. During this time, the band went on a road trip in Murdoc's Winnebago, taking their instruments and recording equipment along with them.[24]
In between seasons one and two of Song Machine, the band released a surprise EP titled Meanwhile in August of 2021. The EP was released as an "homage to Notting Hill Carnival", an annual event that usually takes place in London every August, but couldn't occur in 2020 or 2021 due to the global pandemic. The EP features frequent Notting Hill Carnival performers Jelani Blackman, Barrington Levy, AJ Tracey, and Alicai Harley.[25]
References