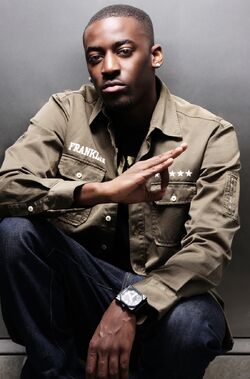 Ashley Thomas (b. February 4, 1985 in Chiswick, West London) better known by his stage name Bashy, is a British hip hop and grime artist.
Role in Gorillaz
Bashy was a guest on the third Gorillaz album, Plastic Beach. He collaborates with fellow British grime rapper Kano and The Syrian National Orchestra for Arabic Music on the track White Flag.
Career
He rose to prominence in 2007 after the release of his controversial track Black Boys. He was the assistant music supervisor for the film Adulthood, for which he also recorded the theme track entitled Kidulthood to Adulthood.