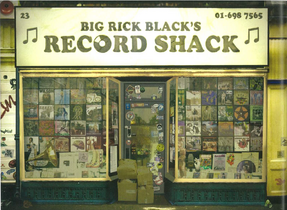 Big Rick Black's Record Shack was a London record shop located on Plastic Beach.
Big Rick Black's Record Shack was originally located in London's Soho area and is owned by Big Rick. After Russel Hobbs arrived in the UK, he got a job working behind the counter at the shop, until Murdoc kidnapped him and brought him to Kong Studios.
In 2010, the shop was closed down by "men in suits" after the public stopped purchasing records and LPs for CDs and downloads. The shop was literally removed from London's Soho area and was then thrown out to sea. The shop ended up washed up on Plastic Beach. Inside the shack are parodies of various famous albums and musician posters, including Gorillaz. Big Rick himself is a very fat man (fatter than Russel) with a Scottish accent who happened to get stuck behind the counter with no possible way out. The players who are playing the Plastic Beach game have to spin Rick around with butter in order to get a piece of 2-D's Donkatron.
In December 2020, the shop (and the entirety of Plastic Beach was destroyed by Leee John in The Lost Chord music video.
Gallery