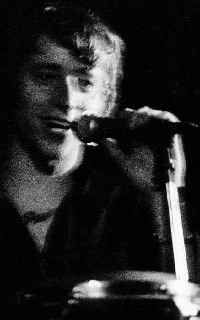 Cass Browne
is a musician and writer who provided drums and percussion and character dialogue in
Gorillaz
from 2001-2012.
Biography
Cass Browne was a member of the band The Psychotics who became The Senseless Things in 1986. The Senseless Things had a couple of top 20 hits and many other singles in their nine years together, they split up in 1995. Jamie Hewlett was a big fan of the band and designed many of their sleeves. When The Senseless Things split up, Cass formed a new band Delakota, that he toured for a couple of years. Cass Browne also worked with Damon Albarn as his drummer on 2002's 'Mali Music'.
Role in the Gorillaz Project
Co-produced The Sounder. Was the Gorillaz live drummer for all dates in 2001 and 2002. Co-wrote the Gorillaz documentary 'Charts Of Darkness'. Wrote MEL's website tour that appears on the DVD Celebrity Take Down. Wrote the Gorillaz autobiography "Rise of the Ogre".