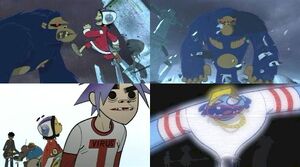 The Gorillaz music video for Clint Eastwood.
Notes
The music video's audio and overall resolution has been remastered and entirely improved from the original upload that was on the band's official YouTube channel.
The original video has been privated, but Vemo has kept it up.
Synopsis
Gorillaz is performing or rehearsing in the graveyard next to Kong Studios when suddenly Del Tha Ghost Rapper escapes out of Russel's head and raps about the illusion of life. Next, zombie gorillas rise from the dead and start to chase Murdoc around the graveyard while Del is rapping. Noodle was joyfully skipping along and then delivers a hard kick to one of the zombie gorillas in the face. When the morning comes though, the zombies gorillas turn into dust, and Del goes back into Russel's head, leaving Gorillaz stunned over the course of events.
Availability
Credits
Directed by Jamie Hewlett and Pete Candeland
PRODUCER: Sophie Byrne
EXECUTIVE PRODUCERS: Andrew Ruhemann/Tom Astor
ANIMATORS: Pete Candeland, Dave Antrobus, Chris Hauge
ASSISTANT AND FX ANIMATORS: Dave Burns, Molly Sanderson, Michael Douglas, Rufus Dayglo, Nicola Perkiss
TRACERS: Sam Spacey, Angeline da Silva
CG ANIMATORS: Chris Hemming, Stuart Hall
PRODUCTION CO-ORDINATOR: Martin Wiseman
EDITOR: Stuart Hutcheson
Music Video
Gallery