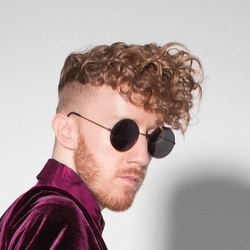 Gareth Daley better known mononymously as Daley (b. September 29, 1989) is a singer and songwriter from Sale, Manchester, UK.
Role in Gorillaz
Daley co-wrote and provided vocals for the standalone Gorillaz single Doncamatic. He also appears in the music video for the track, where he travels the ocean in a submarine. Daley joined Gorillaz on the Escape to Plastic Beach World Tour in 2010.
Musical Career
In October 2009, Daley was invited by BBC Introducing to record a live session at the BBC's Maida Vale studios as part of Electric Proms 2009. He was chosen after uploading his track, Rainy Day, to BBC Introducing. Daley's tracks have been broadcast by BBC Radio 1Xtra DJ's Ras Kwame, MistaJam and Ronnie Herel and by Sam Walker at BBC Introducing in Manchester.
On 6 December 2010, the BBC announced that Daley has been nominated for the BBC's Sound of 2011 poll.
Discography
Days + Nights (2014)
The Spectrum (2017)
Trivia
Gallery