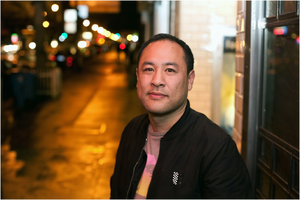 Daniel M. Nakamura (b. August 29, 1966), better known by the stage name Dan the Automator, is an American hip hop producer. He founded the record label 75 Ark, which was distributed by Tommy Boy Records during its short existence (1996-2001).
Dan was the principal producer for Gorillaz phase one, including the self-titled debut album. He also created the mix compilation "Wanna Buy A Monkey?", which includes the original version of Gorillaz' "Latin Simone".
Dan is a member of the hip hop group Deltron 3030, along with other phase one collaborators Kid Koala and Del The Funky Homosapien. Damon Albarn collaborated with the group on the track "Time Keeps On Slipping" on their 2000 self-titled album and was featured in the song "What Is This Loneliness" from their second studio album "Event 2".