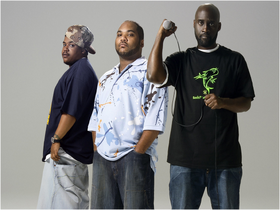 | | | |
| --- | --- | --- |
| " | With Damon, it was easy because we love working with him. We're about to be on the new Gorillaz album. Snoop was also performing on the record when we were over there. We actually sat down with Damon two weeks ago and he played us some of the new Gorillaz album, and it sounds amazing. He played us a track that he wants us to get off on his album so we got to get in the studio and put that down. | " |
| | ~ De La Soul about the new Gorillaz record, The Guardian | |

De La Soul is an American hip hop trio formed in 1987 on Long Island, New York. The band is best known for their eclectic sampling, quirky lyrics, and their contributions to the evolution of the jazz rap and alternative hip hop subgenres.
Members
David Jude Jolicoeur "Dave" (b. September 21, 1968)
Vincent Mason "Maseo" (b. March 24, 1970)
Kelvin Mercer "Posdnuos" or "Pos" (b. August 17, 1969)
Role in Gorillaz
In 2004, De La Soul collaborated with Gorillaz on the hit single Feel Good Inc., released in 2005. The song won a Grammy for Best Pop Vocal Collaboration with Vocals, after being nominated for a total of three Grammys. It was the first Grammy won in the group's career. Despite the whole trio being mentioned in credits, only Dave and Maseo can be heard in the song - according to Pos in a 2017 interview. But despite no all members being featured, all the members come out for the song when played live.
De La Soul returned as guests on the third Gorillaz studio album, Plastic Beach alongside Super Furry Animals frontman Gruff Rhys on the track, Superfast Jellyfish.
De La Soul were supposed to appear on a track titled Sloped Tropics, and they co-wrote the song Electric Shock, which features Derby-based Orchestra Sinfonia ViVA. Both of these songs did not appear on the album in the end, although certain elements were reused in the track Rhinestone Eyes. Gorillaz' frontman Damon Albarn played the song when he filled in for Zane Lowe on BBC Radio 1. This time only Maseo wasn't featured on the song.
They returned once again for the fifth Gorillaz album, Humanz, on the track Momentz. Only featuring Pos.
Other
De La Soul appeared in the music videos for Feel Good Inc., On Melancholy Hill and in the storyboards for Rhinestone Eyes. They joined Gorillaz on Demon Days Live, Escape to Plastic Beach World Tour and Humanz Tour. De La Soul were also a part of the lineup for Gorillaz' Demon Dayz Festival. Kelvin "Posdnuos" Mercer additionaly appeared on the first episode of Things I Like by Russel Hobbs podcast, seconnd episode of Song Machine Radio, made a cameo apperance in the Strobelite music video and joined Gorillaz on Song Machine Tour and Gorillaz World Tour 2022
Musical career
The members are Kelvin Mercer, David Jude Jolicoeur and Vincent Mason. The three formed the group in high school and caught the attention of producer Prince Paul with a demo tape of the song "Plug Tunin'". With its playful wordplay, innovative sampling, and witty skits, the band's debut album, 3 Feet High and Rising, has been called "a hip hop masterpiece."
It is the band's biggest commercial success to date, with their subsequent albums selling progressively less, despite receiving high praise from critics. They were influential in the early stages of rapper/actor Mos Def's career, and are a core part of the Spitkicker collective. They are the second longest standing Native Tongues Posse group, after the Jungle Brothers.
Discography
3 Feet High and Rising (1989)
De La Soul Is Dead (1991)
Buhloone Mindstate (1993)
Stakes Is High (1996)
Art Official Intelligence: Mosaic Thump (2000)
AOI: Bionix (2001)
The Grind Date (2004)
Plug 1 & Plug 2 Present... First Serve (2012)
and the Anonymous Nobody... (2016)
Gallery
Trivia
De La Soul are the only collaborators to have been featured on three different Gorillaz albums: Demon Days, Plastic Beach and Humanz
De La Soul have never had a Gorillaz song where they are all featured