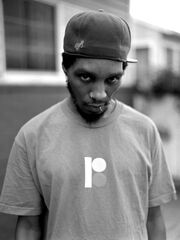 Del The Funky Homosapien (b. August 12, 1972), also known as Deltron is an alternative hip hop artist.
Del was born as Teren Delvon Jones in Oakland, California.
Biography
Del was born and raised in Oakland, California on August 12, 1972. He is the cousin of legendary west coast rapper Ice Cube. In 1991, Del, made his first solo album I Wish My Brother George Was Here with help from his cousin Ice Cube and his backing band De Lench Mob, marking the first appearance of Del's crew Hieroglyphics. Despite mixed reviews upon release, I Wish My Brother George Was Here was generally well received. Del, however, was unhappy with the album, believing it was over-produced and phony. He decided to break away from Ice Cube's influence on his next album, No Need for Alarm, a break which (along with their disappointment in demos for his 3rd LP) caused the record label Elektra to drop Del's contract.
After 5 years of solo inactivity, Del would release Future Development online in 1998. A month before the release of Future Development, Del would receive a letter from his record label Elektra notifying him that his contract with Elektra had expired. Del released Future Development on the internet as a tape in 1998, however it was re-released in 2002 under the Hieroglyphics Imperium label.[1]
On May 23 2000, he released Deltron 3030 with Dan "the Automator" Nakamura and Kid Koala, which garnered praise from critics[citation needed] and helped expand Del's audience. This project was particularly interesting because the CD was a work of science fiction, telling stories about life and hip hop in the year 3030. A sequel to Deltron 3030 called Event 2 was released 13 years later on September 30, 2013. 
Del collaborated with Gorillaz for two songs on their debut album, both of which became singles: Clint Eastwood and "Rock the House". In their videos he was portrayed as a ghost. Del later commented on the success of "Clint Eastwood" by saying that he actually wrote the song with the book "How to Write a Hit Song," a book that he bought with a coupon his mother gave him. After the song went platinum he gave the plaque to his mother[2]. As part of Russel Hobbs' backstory, the character of Del was one of Russel's friends that was gunned down in a drive-by shooting, whose ghost possessed Russel. When Del was not invited to work on the "Demon Days" album, a story was written that Del and the other spirits that possessed Russel were exorcised in 2003.
Del's lyrics often reflect his interests, offering humor and themes that differ from mainstream hip hop. His songs have discussed video games, bad hygiene, intergalactic rap battles, and more. In 2000, the song "Jaw Gymnastics", featuring Casual, was featured in the game Knockout Kings. In 2000, the song "Positive Contact" from Deltron 3030 was featured in the game Mat Hoffman's Pro BMX. In 2001, the song "If You Must" was featured in the game Tony Hawk's Pro Skater 3. In 2003, the song "Positive Contact" from Deltron 3030 was featured in the game Tony Hawk's Underground. In 2005, the song "Burnt" featuring Hieroglyphics was featured in the game Tony Hawk's American Wasteland. In 2006, the song "Catch A Bad One" was used in the game Marc Ecko's Getting Up: Contents Under Pressure. Also in 2006 his song "Dr. Bombay" was used in commercials for the movie Beerfest and more recently a Hieroglyphics song "At the Helm" was featured in commercials for Tony Hawk's Project 8.
In 2018, Deltron 3030 collaborated with Cartoon Network's animated series Craig of The Creek, with Del making a guest appearance on the episode "The Boy From 3030" as Deltron. The episode featured original music from Deltron 3030 made just for the episode of the show.[3]
Role in Gorillaz
Del The Funky Homosapien is the rapper for the Gorillaz self titled debut album tracks Clint Eastwood and Rock The House. At the very last minute of finishing the recording of Deltron 3030, the producer Dan The Automator asks Del to contribute to another project that he was involved with, Gorillaz. Del was initially hesitant and refused, as he was exhausted from finishing up on Deltron 3030. However, upon being shown the band's concept art and learning that Jamie Hewlett, who Del was already a fan of through Tank Girl, was involved, he immediately recognized his art style and was quickly on board and agreed to contribute to Gorillaz' debut album.[4]
Del The Funky Homosapien and Damon Albarn had previously collaborated on the tracks Time Keep on Slipping, a song from Deltron 3030's self-titled debut album, and What is This Loneliness, a song from Deltron 3030's sequel, Deltron Event II.[5][6] Del is one of the first rappers that Damon had ever worked with.
Clint Eastwood would not be played live with Del until 2014 during an SXSW date at Damon Albarn's Everyday Robots solo tour, where Del and Damon would finally meet in person for the first time.[7] Since Gorillaz' first live gig of phase 4 and the Humanz tour in 2017, Clint Eastwood has been played with Del multiple times. Del originally planned to join Gorillaz on the first European leg of The Now Now tour in 2018, but was not able appear in any more dates after the first show, due to a near fatal fall at Roskilde that fractured 7 of his ribs and punctured one of his lungs. The injuries from this fall nearly killed him.[8] Many members of and collaborators from Gorillaz gave him many well wishes while he was in the hospital, including the creators Damon and Jamie.[9][10] After a successful surgery, Del has recovered from the injuries but is still in pain, and has a cat as an emotional support animal to help him get through the trauma and anxiety.[11]
Discography
http://upload.wikimedia.org/wikipedia/en/e/ec/Clint_Eastwood.jpg Del as portrayed in the video "Clint Eastwood"
Solo
I Wish My Brother George Was Here (1991)
No Need for Alarm (1993)
Future Development (1998)

Future Development was originally available (in 1998) only in tape format in Japan and on the Hieroglyphics website. It was later released to CD in 2002.

Both Sides of the Brain (2000)
The Best Of Del the Funkee Homosapien: The Elektra Years (2004)
Hieroglyphics
Third Eye Vision (with Hieroglyphics) (1998)
Full Circle (with Hieroglyphics) (2003)
Gorillaz
Deltron 3030
Deltron 3030 (2000)
Event 2 (2013)
Other projects and guest appearances
Judgement Night (movie soundtrack), track "Missing Link" (with Dinosaur Jr.)
One Big Trip (movie soundtrack), track "One Big Trip"
Think Differently Music Presents-Wu-Tang Meets The Indie Culture tracks "Fragments" and "Preservation" (with Aesop Rock)
Handsome Boy Modeling School, So... How's Your Girl? (1999)
Handsome Boy Modeling School, White People (2004)
Handsome Boy Modeling School, The World's Gone Mad (2004)
The Coup, track "The Repo Man Sings For You," from "Steal This Album" (1998)
Zion I "What U Hear", from True & Livin', 2005
Opio of Souls of Mischief, "What's Wrong With This Picture?", from "Triangulation Station", 2005
External Links
Gallery
References