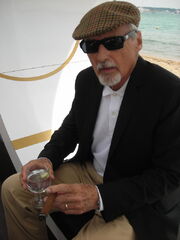 Dennis Lee Hopper (born May 17, 1936; died May 29, 2010) was an American actor, filmmaker and artist. As a young man, Hopper became interested in acting and eventually became a student of the Actors Studio. He made his first television appearance in 1955, and appeared in two films featuring James Dean, Rebel Without a Cause (1955) and Giant (1956). Over the next ten years, Hopper appeared frequently on television in guest roles, and by the end of the 1960s had played supporting roles in several films. He directed and starred in Easy Rider (1969), winning an award at the Cannes Film Festival and was nominated for an Academy Award for Best Original Screenplay as co-writer of the film's script.
He was unable to build on his success for several years, until a featured role in Apocalypse Now (1979) brought him attention. He subsequently appeared in Rumble Fish (1983) and The Osterman Weekend (1983), and received critical recognition for his work in Blue Velvet and Hoosiers, with the latter film garnering him an Academy Award nomination for Best Supporting Actor. He directed Colors (1988), and portrayed King Koopa in the film version of Super Mario Bros. (1993) and the villain in Speed (1994). Hopper's more recent work includes a leading role in the television series Crash.
Hopper was also a prolific photographer, painter, and sculptor whose works are exhibited worldwide.
Involvement with Gorillaz
Hopper's involvement with Gorillaz can be heard on Demon Days's track "Fire Coming Out of the Monkey's Head", in which he narrates about the song's protagonists, the people known as Happy Folk.
According to Russel Hobbs on the "We Are the Dury" interview, Dennis Hopper became involved with Gorillaz after Noodle met him at an award show and discovered that he already knew some of Gorillaz songs and she told him about the work they were doing on their next album, "Demon Days."
Trivia
Dennis Hopper was the third collaborator of the Gorillaz to pass away. The other five collaborators were Ibrahim Ferrer, (died 2005)  Ike Turner (died 2007) Lou Reed (died 2013) Bobby Womack (died 2014) and Mark E. Smith (died 2018).
Dennis Hopper acted in the Super Mario Bros. movie as the main antagonist Bowser.
Community content is available under
CC-BY-SA
unless otherwise noted.