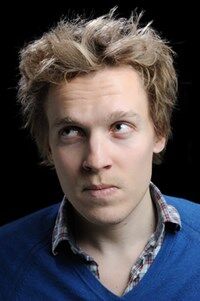 Ed Caruana is an English comics writer and editor from London, United Kingdom. Caruana is the one of the current script writers for Gorillaz since their return in 2016. Caruana replaced the former Gorillaz' scriptwriter Cass Browne, who left Gorillaz in 2012.[1]
Role in Gorillaz
Caruana is one of the current lead script writers for all character-related content for Gorillaz. Formerly, Gorillaz' character dialogue was written by their drummer Cass Browne until his departure from the band in 2012.
Caruana has been responsible for writing Gorillaz' character dialogue since their return in 2016. He often writes the dialogue with his writing partner Thomas O'Malley, another current writer for Gorillaz.
He has written dialogue for all content, such as character interviews, music videos, award ceremony speeches, ad campaigns, social media campaigns and 2-D & Murdoc's motion capture appearances. He has also been responsible for the writing in Gorillaz' The Book Of series, which launched Phase 4, biographies and interviews for the characters from Telekom Electronic Beats, FreeMurdoc chatbot on Facebook[2][3] and Gorillaz Almanac.
Other Works
Caruana is also a head writer for comic books for Nickelodeon's Teenage Mutant Ninja Turtles, Warner Bros' Tom & Jerry, Disney's Club Penguin, and Marvel's Action Man ATOM. He's also written scripts for TV pilots such as The Lost Planets, Small Town Hero, and Shippe of Fools.
References