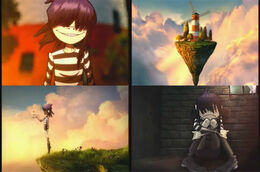 This page features information regarding the music video for "El Mañana".
Synopsis
Noodle is floating along peacefully in the sunshine on her floating island. Suddenly the peaceful calm is shattered when two attack helicopters appear and start shooting at her with machine guns. Noodle takes refuge in the windmill. The helicopters fire at the windmill and damage it. Later Noodle comes out of the windmill to look around, and sees that the once beautiful sky has turned completely cloudy and dark, but the helicopters see her and attack again, and she is forced back inside the windmill. eventualy the island is so damaged that it cannot float anymore and starts to fall to the earth. It crashes on the ground and one of the helicopters drops a bomb on it.
Availability
Credits
Record Company: Parlophone
Artist Management: CMO
Production Company: Passion Pictures
Directors: Jamie Hewlett/Pete Candeland
Executive Producer: Andrew Ruhemann
Producers: Emilie Walmsley/Cara Speller
2D Animation: Robert Valley, Heath Kenny, Rikke Asbjorn
Key Assistant to Director: David Burns
Animation Assistants: Miles Peters, Brent Odell, Jonathan Wren, Gail Walton, Richard Wake, Gerry Gallego, Rachel Glodowski
FX Animators: Simon Swales, Barney Russell
FX Assistants: Mikolaj Watt, Sky Bone, Jane Wright, Katerina Kremasioti, Monica Brufton
Toonz: Phil Holder, Tim King, Megs White Dore
Art Direction: Daniel Cacouault
Matte Painter: Christobal de Oliveira
Creative Assistant: Paul Cheshire
Technician: Tony Clarke
2D Co-ordination: Jen Nunn, David Burns
CG Animation: Wesley Coman
CG Supervisors: Chris Hemming, Antoine Moulineau
CG Modellers: Stuart Rowbottom, Adam Sharp, David Usher
CG Lighting: Adam Sharp
CG Effects: Lukasz Pazera
Senior Compositor: Johnny
Still Compositing: Niamh Lines, Cassiano Prado, Ed Salkeld
Technical Director: Mark Wilson
3D Co-ordination: Emma Philips
DoP (live action shots) Richard Stewart
Camera Operator: Richard Stewart
Producer (live action) Russell McLean
Make Up: Cecile Nonon
Editor: Jamie Foord
Post Production: Rushes
VFX Artists: Duncan Malcolm, Marcus Wood, Brian Carbin
Rushes Producer: Carl Grinter
Additional Information
The video is a continuation of themes in the 'Feel Good Inc' video. The floating island and the menacing helicopters both return.
Noodle supposedly parachuted off of the island as it was descending towards the ground.
Gallery