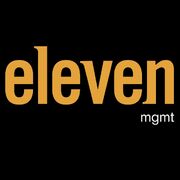 Eleven Management or Eleven MGMT is a London based management company founded in 2011. It handles artists' promotion, tour management, collaborations, music publishing, social media presence and merchandising.
Official Description
We are Eleven: a deliberately small, creative management team who work in partnership with our roster of artists to release great music.
Artists
Graham Coxon
Electric Wave Bureau
The Clash
Riz Ahmed
The Dawn of MAY
Bastille
Role in Gorillaz
Eleven MGMT is responsible for Gorillaz' management since 2016. Currently co-managers of Gorillaz are Niamh Byrne and Régine Moylett, with Stars Redmond being the head digital marketing manager.
External Links