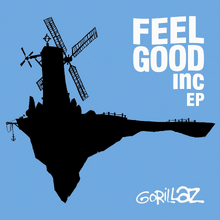 The Feel Good Inc. EP is an EP about the Gorillaz' second studio album's main single, Feel Good Inc., which was mentioned in Pitchfork's and Rolling Stone's Best Songs of the 2000s.
There are two different versions of the EP, each with different track listings: the Japanese Enhanced CD and the US Digital EP. The last one was released on 24th of January 2006.
Track Listing
Japanese Enhanced CD:
Feel Good Inc.
US Digital EP:
Feel Good Inc.
Spitting Out The Demons
Bill Murray