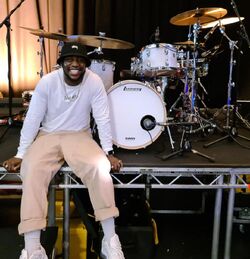 Femi Koleoso is a British drummer and DJ. He is a drummer for Gorillaz live band since 2020.
Role in Gorillaz
Femi Koleoso is Gorillaz' live drummer since Song Machine Live in 2020. He replaced Gabriel Wallace, previous Gorillaz Live Band drummer, after allegations of sexual assault against him were brought to the band's attention on social media. Femi continued to be the live drummer for the band during Song Machine Tour in 2021 and on many live performances of Meanwhile tracks.
Musical Career
Koleoso is the drummer and leader of the award winning british jazz group Ezra Collective. He is also a member of Jorja Smith's band. Additionally he sometimes explores other genres such as afrobeat and hip hop. He was a DJ for Reprezent Radio and Worldwide FM.
Femi Koleoso has collaborated with Damon Albarn for the first time on a musical tribute to the late afrobeat drummer Tony Allen. They performed Allen's collaborative track "Go Back" on 12th August 2020 at Virtual Aim Awards, alongside Simon Tong, Remi Kabaka Jr. and Seye Adelekan.