The Geep is a dune buggy used by the band for a majority of Phase 1. It made several appearances in later phases as well.
Design
The Geep is a modified Meyers Manx dune buggy. It is easily distinguished by its jagged cartoon-ish camouflage paint job and its Geep livery on the hood. It also has an APEX bumper sticker on its back right skirt. Unlike most standard Meyers Manx dune buggies, the Geep lacks headlights which as instead replaced with small orange turn signals and a set of four red high beams below the bumper. As seen in the 19-2000 music video, the Geep has a dual rocket launcher built into its underbody. The seats of the car are black which are later covered with red seat covers.
Media Appearances
During Phase 1, the Geep made its debut on the cover art of Gorillaz and then in the 19-2000 music video alongside the Geep Game, a 3D Flash-based gaame and simulator available on the Gorillaz website and at a few CDs and DVDs at the time as a way to promote the single. It later also made an appearance in the Gorillaz "Charts of Darkness" documentary and the Gorillaz MTV Music Award acceptance speech during Phase 1. It later returned during the early stages of Phase 2 in the MTV Cribs Kong Studios Tour, in which Murdoc stated that it "...costs more than a space shuttle." During the final months of Phase 2, the Geep was abandoned in the crumbling ruins of the Kong Studios Carpark where it was believed to remain until an interview with 2-D & Murdoc on April 20, 2017 when Murdoc revealed that the car was sold and 2-D hinting that he had sold the vehicle to a person in Germany via eBay. This is then refuted by the fact that the Geep makes an appearance in Noodle's car garage in the Gorillaz iOS/Android app. It is possible that the Geep was recovered and returned to its rightful owner. After that it appeared in part 3 of Mission M101 series in 2019. It's presumed it remained with the band since then.
Gallery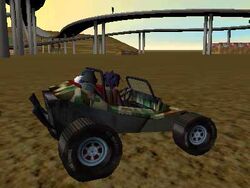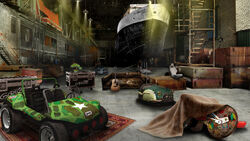 References