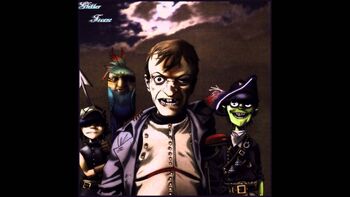 Glitter Freeze is the eighth track on Gorillaz' 2010 album "Plastic Beach". Band member Murdoc Niccals stated the following about "Glitter Freeze" in a track-by-track commentary:
"I'm really glad we managed to get Mark E. Smith on the record. I'm not sure he felt the same, but y'know. He wanted to do his part facing north." "Which way's north from here?"
"We used his question as a little intro, kind of like what we did with Shaun Ryder on 'DARE'. Sometimes the greatest moments are those little mistakes that you catch in the mix when you're just warming up."
"Like 'Punk' on the first album, and 'White Light' on 'Demon Days', this is the album's ruckus section of chaos. Every album's got to have one."
Lyrics
Where's north from here?

It was the Glitter Freeze

Listen

You wouldn't credit!

I believe ya!

Ship him far!
Video
Trivia
The sounds at the beginning of the track is the word "Plastic Beach" in morse code.