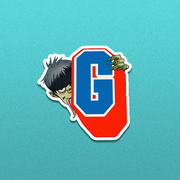 Gorillaz Raritiez  is an online community focused on restoring and preserving the web-based elements of Gorillaz history, such as the flash/shockwave games.
Background
The group is known mainly for their connections to ex-Zombie Member Mat Wakeham, who worked closely with Jamie & Damon throughout Phase 1. They have produced a couple of interviews throughout their short time in the community which were mainly lore and web-focused, unlike many other interviews which focus more on the real-world behind the scenes of the band.
During May 2020, Gorillaz live bassist Seye Adelekan did a live Q&A in the communities public discord server, which was shortly followed by an exclusive cover of the track Aries. Cass Browne has also previously assisted the team with their fan continuation of Murdoc's Pirate Radio which originally aired on Gorillaz.com back in 2010.
On June 10th 2020, Raritiez interviewed Jamie Hewlett in hopes of getting closure to several unanswered lore related questions such as if the spin-off band known as The Rejects would ever return or if the Flash game Murdoc's Operation is considered canon. On July 14th, Mat Wakeham, one of the original writers & Web designers for Gorillaz, participated in a live 2-hour call with the head of their team, during the stream he showed four never before seen concept drawings of Kong Studios & the band, including a piece which confirmed that Kong was previously named Navarone. Raritiez was ran by superfan & merchandise collector menembeck, the creator of the Chat'o'Matic Discord & the Raritiez Instagram page. Their website ZombieHipHop.Heliohost.org was ran by amateur programmer and web designer Polaris along with fellow Gorillaz YouTuber The World Of Gorillaz, it was housed on three separate domains prior to its current home and was changed due to issues with their server webhost.
The Raritiez Chat'o'Matic Discord was where many of the new generations of fans reside in hopes of replicating the original Gorillaz web experience along with learning some of the more obscure elements in Gorillaz history thus far. Although the server was originally created in an attempt to replicate the original Chat'o'Matic, it had evolved into a hub for fans to share their many fan projects. But has since gone their separate ways, along with the website going and the discord falling apart.
History
The first iteration of the group was formed during 2017 by user FormalSquid. They focused specifically on sharing unlisted/lost/restored Gorillaz material through their YouTube channel. User Polaris was responsible for the redevelopment of the Kong Studios web experience & user Fatcat helped with the restoration of low-quality tracks such as Mr. Softy's Balloon Race.
By late 2019 the group began to cease creating content for the community until late January 2020 when menembeck created a Reddit post asking for assistance on rebuilding the old Gorillaz website experience, this lead to his collaboration with Polaris and then later being promoted to the new head of the team. Over the course of 6 months, weekly updates were made to their Kong Studios website in the hopes of allowing fans to experience the many variations of Kong. The group also ran several competitions to promote their website, once giving away three copies of an exclusive extended cut of the Reject Flase Icons Documentary, provided by Denholm Hewlett. Since the completion of the Kong Studios Restoration Project, Raritiez has since undergone a huge shift in focus, now swaying more towards the creation of fan-made content including but not limited to: Audiobooks, Podcasts, Animations, Games and Comics, all of which are inspired by abandoned/lost concepts the band previously dabbled in.
March 1st 2021, the Raritiez Chat'o'Matic officially closed down following an emotional final meeting where members both new and old looked over their past experiences with the community and shared their final moments together before the server shut down. The YouTube page still remains up while the Instagram is now rebranded to their studio pazuzu pictures.
June 20th 2021, Raritiez reopened the Chat'o'Matic server due to popular demand, dropping Raritiez from the title and having the community as a standalone experience.
August 2021, Gorillaz Raritiez has officially gone their separate ways and stopped posting on their website and YouTube Channel, along with Pazuzu Pictures
Trivia
In late January 2020, Ex Gorillaz webmaster Tim Watkins assisted the team with their failed Plastic Beach web reboot while visiting family in Newcastle.
Raritiez helped GinaRe Womack design the logos for their charities named The Gifts That Give Foundation and The Womagic Foundation, now both presumably scrapped, both of which were being established in memory of Bobby Womack .
Gorillaz Raritiez also has a spin-off team dedicated to fan-created content called Pazuzu Pictures .
In total Gorillaz Raritiez had 40+ members working behind the scenes on various different projects at it's peak.
Links