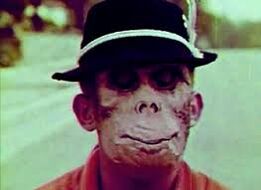 Lonely Man (Kid Koala Remix) (also known as Gorillaz Routine) is a remix of "Lonely Man", a song by Gorillaz producer Dan the Automator featuring Gorillaz. "Lonely Man" was intended to be part of Dan the Automator's unreleased solo album, Omakase. The remix by Gorillaz collaborator Kid Koala surfaced online in 2003 with the unofficial title "Gorillaz Routine". The original version of "Lonely Man" has never been publically released.
Information
The "Gorillaz Routine" remix of Lonely Man consists of hypnotic sounds and repeated music patterns over 2-D singing. It also plays Martin Luther King's I have a Dream Speech. The video in the background is a 1963 bike safety PSA called "One Got Fat". The original song was created by Dan for an unreleased album, and was meant to include rap parts by Mos Def. The album in question was cancelled after his publishing studio was bought out. At a recent live event, during which this song was performed, Kid Koala confirmed that the original song was intended for his unreleased album, Omakase. Kid Koala's mix must be different from what the finished track is as Mos Def is not present on it.
According to a tweet made by Kid Koala on 2017, he stated that he didn't have the original version anymore, but Dan the Automator still had plans on releasing it someday. He also stated, during the live debut of his remix, he stated that the finished track would show up on Dan The Automator's next studio album. This, however, never came to be, with Dan's 2019 album "Booksmart: Score by Dan the Automator" not including it at all.
Lyrics
Oooooh.

Oooh (movin' on)

(That burns)

Ooooooh

Backing up, you don't believe me?

Packing up, believe me it's easy

All my day, I still wait

Oh, now I'm a lonely man

Movin' on Movin' on

Movin' on Movin' on

Movin' on Movin' on

Movin' on Movin' on

Movin' on

I'd like to take this oportunity to add, that every breath makes air

Whoever, and whereever they may be

To bond for a moment (moment, moment moment *fades*)

And to give thanks for his or her own way

*Marthin Luther King Speech*

Movin' on
Ooooh.

Backing up, you don't believe, packin' up

Packing up, believe me it's easy

All my day, I still wait.

Oh, now I'm a lonely man

Backing up, you don't believe

Packing up, believe me it's easy

All my day, I still wait.

Oh, now I'm a lonely man

Movin' on Movin' on

Movin' on Movin' on

Movin' on Movin' on

Movin' on Movin' on

Movin' on Movin' on

Movin' on Movin' on

Movin' on Movin' on

Movin' on
Song