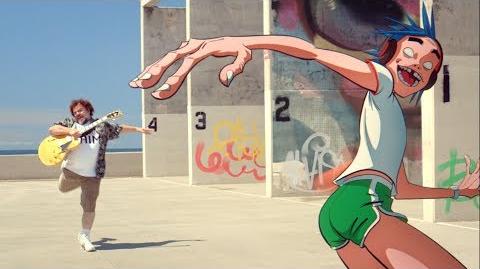 The music video for the song Humility, lead single of the Gorillaz album The Now Now, was posted to the Gorillaz YouTube channel on the 21st of May, 2018.
Synopsis
The video starts with shots of 2-D roller-skating around Venice Beach and Jack Black playing a guitar. Noodle is then seen playing chess against Remi Kabaka Jr.. Ace, who replaced Murdoc while he was in jail, is then seen watching two men play basketball. When the ball lands in Ace's hand, he takes out a pocket knife and stabs it. After this, various video clips of local residents of Venice Beach are shown. Near the end of the video, Russel is seen standing on the side of the boardwalk. Russel then trips 2-D as he skates towards him. 2-D falls, and when he gets back up, his white eyes turn black. He begins to skate away again, only to fall on his face.
Credits
Director: Jamie Hewlett
Co-directors: Tim McCourt, Max Taylor, Evan Silver
Executive Producer: Bart Yates
Producers: Ryan Ennis, Georgina Fillmore, Franzi Nicolaus
Gorillaz are managed by Eleven Management.
Cast:
Jack Black: as himself
Bodybuilders: Alex Okafor
Basketball Players: Dexter Homan, Brent Martin
Chess Player: Remi Kabaka
Bad Skater: Will Dewitt
Roller Skater stand-in: Edgar Khatchatrian
Production Company: Blinkink
Production Company: The Line
Production Company: Ruffian
Animation: The Line
Animation Directors: Tim McCourt & Max Taylor
Executive Producer: James Duveen
Editor: Robert Rafalat
Animators: Marlène Beaube, Léonard Bismuth, Maxime Delalande, Tim Dillnutt, Sarah Dhorne, Wesley Louise, Venla Linna, Xavier Ramonède, Pierre Rütz, Alvise Zennaro
Background Artist: Bjorn Erik-Aschim
Lead Compositor: Bernardo Varela
Compositors: Valentina Bartiromo, Guillaume Cassuto, Kye Dorricott, Fiona Lu, Courtney Pryce
Clean Up Artists: Aude Carpentier, Denise Dean, Angelina De Silva, Michael Douglas, Gerald Gallego, Venla Linna, Toby Parry, Setareh Seto, Isobel Stenhouse
Production Manager: Max Ross
Production Assistants: Samia Ahmed, Leana Mae Felipe
Tech Support: Jack Straw
Additional Clean Up: Amix
Rotoscoping: Trace VFX
Live Production: Ruffian
Director: Evan Silver
Executive Producer: Robert Herman
Head of Production: Sheila Eisenstein
Production Supervisor: Joshua Hummel
Director Of Photography: Carlos Veron
1st AC: Rod Horwitz, Eric Aguilar
2nd AC: Alan Certeza, Brian Austin
B-Cam Operator: Joseph Messier
DIT: JJ Osbourne
1st AD: Chuck Connors
2nd AD: Erid Topp, Brent Martin
Gaffer: Red Hickman
Key Grip: Michael Koepke
Grips: Ryan Sparling, Danny Carillo, Adam Flore
Production Designer: Chris Yager
Wardrobe: Scott Ludden
Hair/Make-Up: Amy Hanlin
Grading Facilities: Time Based Arts
Colourist: Simone Grattarola
Executive Producer Colour: Tom Jones
Location Manager: Scott Ludden
Sound Design: Offset Audio
Engineer: Claire Bilyard
Trivia
Bonesy can be seen painted on the Muscle Beach arch.
Pazuzu can be seen spray painted on one of the racquetball court walls.
Jack Black is also the lead singer of the band, Tenacious D, which is coincidentally based out of Venice Beach.
The font used for Humility in the title card is Rage Italic.
This is the music video debut of Ace, replacing Murdoc as the latter is currently incarcerated.
Gallery