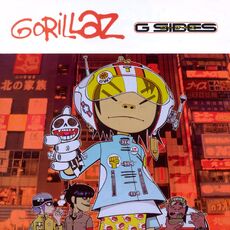 Left Hand Suzuki Method is the ninth track of the 2002 Gorillaz compilation album, G-Sides. It originally appeared as a B-side to the single "19-2000".
The song was also featured as a US-exclusive bonus track of the bands debut album.
Song Credits
Written by 2-D / Murdoc / McKinley Morganfield / Elias McDaniel / Mel London
Performed by: Gorillaz
Additonal infomation: contains extracts from "Mannish Boy" written by Morganfield / McDaniel / London contains elements from 'I'm A Man' performed by Muddy Waters Produced by Dan the Automator and Gorillaz
Co-produced by Tom Girling and Jason Cox
Engineered by Tom Girling and Jason Cox
Pro-Tools by Tom Girling
Lyrics
Feel the impact!

家庭で毎日学習用のレコードを聴かせて音楽的センスを育てる
それによって、上達も早い
(Katei de mainichi gakushû-yô no rekôdo wo kikasete ongaku-teki-sensu wo sodateru.
Sore ni yotte, jôtatsu mo hayai.)

The most important thing is listening to the recording of the music, it makes them get an...um...musical sense and gets to the point of the...fast progress

トナリゼーションを毎日レッスン指導して、音を立派に育てる
(Tonarizêsyon wo mainichi ressun shidô shite, oto wo rippa ni sodateru.)

And also...every day, every lesson, we have to make sure they learn about tonalization.
Video
Trivia
The drums and bass were sampled from "Mannish Boy" by Muddy Waters.
The violin instrumental featured in the song is from "Long, Long Ago", written in 1833 by English composer Thomas Haynes Bayly. "Long, Long Ago" is one of the songs featured in the Suzuki Method of violin education and Suzuki book 1 for stringed instruments, hence its presence in this song.
In the clean version of the track, the bong sounds were cut.
A rare, but official, promo CD of un-mastered tracks intended for the Gorillaz album contains the full, un-faded version of "Left Hand Suzuki Method" running 5:15.

Also, this track was originally called "Exhumation" as opposed to "Left Hand Suzuki Method".
This track was once referred to as "Suzuki Left Hand Method" by the Cat in the cafeteria during MEL's Kong Studios tour.