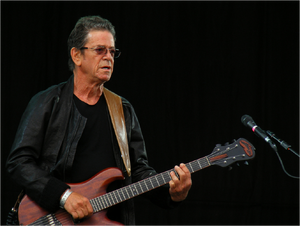 Lewis Allan "Lou" Reed (March 2, 1942 – October 27, 2013) was an American musician, singer, and songwriter. After serving as guitarist, vocalist, and principal songwriter of the Velvet Underground, his solo career spanned several decades.
He featured on the third Gorillaz album, Plastic Beach, in the song "Some Kind of Nature" doing vocals. He is also shown in a submarine in the "On Melancholy Hill" video.
In May 2013 Reed underwent a liver transplant at the Cleveland Clinic. Afterwards, on his website, Reed wrote of feeling "bigger and stronger" than ever, but on October 27, 2013, he died from liver disease (from a problem during surgery) at his home in Southampton, New York, at the age of 71.
Gallery
Trivia
Lou Reed was the fourth collaborator of the Gorillaz to pass way.