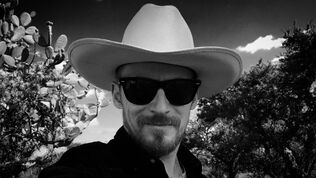 Matthew Wakeham, commonly known just as Mat Wakeham, was a key employee at Gorillaz' former design company Zombie Flesh Eaters during Phase 1 of Gorillaz, who had been friends with Jamie since the creation of Hewlett's comic strip Tank Girl.
Role in Gorillaz
Mat helped Gorillaz with various different things including but not limited to:
Mat also claimed that he once stood in as Murdoc during a radio interview when Phil Cornwell was unavailable.
Trivia
Mat's favourite character to write for was Murdoc.
The line '2-D smells like butterscotch angel delight', said by Noodle during her New York Times interview, was inspired by it being his favourite flavour as a child.
Mat's favourite interview to write was Murdoc's Esquire.
Mat claimed in a one on one with Gorillaz Raritiez that the beta build of Kong Studios was heavily inspired by Trellick Tower.
Mat revealed that Russel was originally intended to be an alumni of an Ivy League college, but the concept was dropped prior to Rise of the Ogre.
External Links