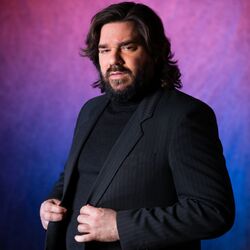 Matthew Charles Berry (b. 2 May 1974) is an English actor, writer, comedian and musician from Bedfordshire, England. He is best known for his roles on The Mighty Boosh, The IT Crowd, What We Do in The Shadows and Toast of London.
Role in Gorillaz
Matt Berry joined Gorillaz on the live streams of Song Machine Live in 2020 where he appeared performing his version the track Fire Coming Out of the Monkey's Head from Gorillaz' album Demon Days. Fire Coming Out of the Monkey's Head was originally narrated by American actor Dennis Hopper, who passed away in 2010.
Career
Berry made his acting debut in television through the role of Todd Rivers in Garth Marenghi's Darkplace and has since gone on to perform many iconic roles, most notably as Laszlo Cravensworth from What We Do in The Shadows, Steven Toast in Toast of London, Douglas Reynholm in The IT Crowd, Beef in House of Fools and Dixon Bainbridge in The Mighty Boosh. He has also performed voice acting roles in a number of animated work, such as The Butt Witch in Twelve Forever, Prince Merkimer in Disenchantment, Moominpappa in Moominvalley, Doctor Roberts in Harvey Beaks, Vitalstatistix in Asterix and Obelix: Mansion of The Gods, and King Poseidon in The Spongebob Movie: Sponge on The Run.
Matt Berry is additionally a rock and folk musician. He has released albums Jackpot, Opium, Witchazel, Kill the Wolf, Music for Insomniacs, Matt Berry and the Maypoles Live, The Small Hours, Night Terrors, Television Themes, Phantom Birds and The Blue Elephant since 1995.
Gallery