This page is a mess, does not meet Gorillaz Wiki standards, and requires overall cleanup.


---

Please help fix this article to make it meet proper standards by clicking the edit button.
Matt Watkins
is the brother of
Tim Watkins
and a member of
Zombie Flesh Eaters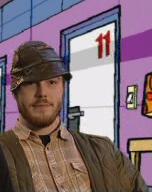 Biography
Matt is a member of Jamie Hewlett's company, Zombie Flesh Eaters, which has also worked on a variety of projects away from Gorillaz. Matt Watkins is also a founder member of Beat13, a loose art collective based in the Birmingham area, founded by his brother Matt Watkins. Check out the site here: http://www.beat13.co.uk.
Role in the Gorillaz Project
Describes himself as the 'webmaster' of Gorillaz.com in a brief interview in the 'Charts of Darkness' 2001 documentary about Gorillaz. Initially Jamie Hewlett recruited just Matt Watkins to help design the Gorillaz virtual space online but it soon became clear the project would need more hands and ideas, leading to the creation of Zombie Flesh Eaters, Hewlett's company.