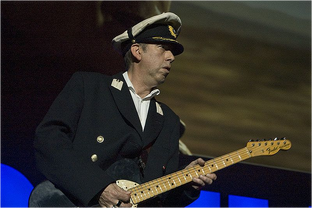 Mick Jones (b. June 26, 1955) is a British musician, guitarist, vocalist and songwriter best known for his works with The Clash.
Musical Career
Mick Jones is best known as the guitarist and the co-lead vocalist of the band The Clash. After The Clash split up in 1983, Mick created Big Audio Dynamite with Don Letts before line-up changes led to the formation of Big Audio Dynamite II and finally Big Audio.
Role in Gorillaz
In 2010 Mick Jones reunited with his The Clash bandmate Paul Simonon on the Gorillaz album Plastic Beach, where he supplied guitar for the album. He is only credited on the song Plastic Beach along with Paul Simonon.
Later both of them joined the Gorillaz Live Band on the Escape to Plastic Beach World Tour. The band headlined the 2010 Coachella Festival, Glastonbury and Festival Internacional de Benicassim.
He could be seen in the On Melancholy Hill music video with Paul Simonon and in the Rhinestone Eyes Storyboard. He could also be seen in The Making of Plastic Beach documentary in 2010, which was featured on the Plastic Beach experienced CD.
He also provided guitar for the tracks Hillbilly Man and Amarillo from The Fall.
Gallery