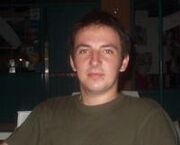 Biography
Mike Robinson is a web-designer and a member of Zombie Flesh Eaters.
Role in Gorillaz
Robinson was a key force in creating elements of Gorillaz' web site, the flash-based Kong Studios. Including many of the Flash and Shockwave games that can be found on the website, as well as the band member computers. Robinson was a member of Jamie Hewlett's former company, Zombie Flesh Eaters.
Trivia
During an interview with FUSE, Jamie Hewlett suggested that Robinson is sometimes called "Fluffy".