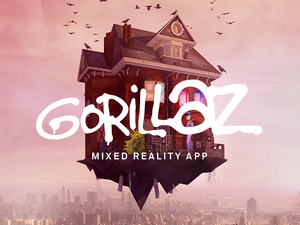 The Gorillaz Mixed Reality App was a smartphone app released by Gorillaz in 2017. The app combined Virtual Reality and Augmented Reality, and allowed users to explore a virtual version of the Spirit House mansion.
The Virtual Spirit House
Upon opening the app, users would be prompted to allow the application access to their phone cameras. The app would then project virtual icons around their environment. Users could click on these icons to be transported to locations in the Spirit House mansion. Once inside the mansion, users were able to view 360° renderings of the rooms, either by swiveling their phone cameras or by dragging the image on their screens.  Each location in the mansion contained objects that the users could interact with, most of which would transport users to external websites.
The locations visitors could explore in the mansion included a main lounge area, 2-D's room, Noodle's room, Murdoc's room and Russel's room.  In June of 2017 a garage location was added to the app as part of a partnership between Gorillaz and Jaguar.
Humanz House Party
The 'Humanz House Party' was an exclusive worldwide listening event which served as the premier for Humanz. On April 21 through April 23, 2017, party-goers could locate a floating virtual model of the Spirit House at 500 locations around the world. Doing so would invite them to the 'Humanz House Party', and gave a first-look at the debuting album. A list of locations where this event occurred can be found here.
External Links
Gallery