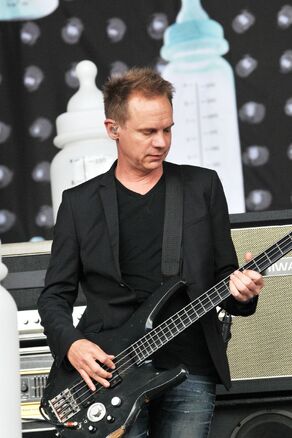 Morgan Nicholls is an English musician and multi-instrumentalist. He played bass on the album Demon Days and was a member of the Gorillaz Live Band during Phase 2
Role in Gorillaz
Morgan Nicholls has been a friend of Gorillaz co-creator Jamie Hewlett for many years. He played bass on Gorillaz' second album, Demon Days on every track.. He later became the bassist for Gorillaz Live Band in 2005. He performed two 5 night residencies at the Manchester Opera House in Manchester and the Apollo Theater in Harlem, New York. He was then also featured on the b-side album D-Sides. He played on the tracks 68 State, Hongkongaton, Highway (Under Construction), Murdoc Is God, Spitting Out The Demons and The Don't Get Lost In Heaven (Original Demo Version). He appeared on the 2008 documentary Bananaz, but wasn't credited in the main film, until the credits.
Musical Career
Nicholls began his career with Senseless Things, and released four studio albums between 1989 and 1995. In 2000 he released solo album Organized. He was later a part of Vent 414 until 1997 and alternative rock band Muse in 2004. Being friends with Jamie Hewlett Morgan got involved with Gorillaz second album Demon Days, in the role of bass player. Then in 2005 and 2006 he played with Gorillaz for their live performances of Demon Days. He was the tour director and bassist for Lily Allen on the first half of her 2009 world tour and he has also been touring with Muse during their stadium tour in 2010. Since then Nicholls played bass with The Who and in 2018 he formed a psychedelic-punk band called Circle 60 together with Cass Browne, Ade Emsley and Des Murphy.
Trivia
Morgan Nicholls' name was the inspiration for the name of the fictional Gorillaz bassist, Murdoc Niccals.
Morgan Nicholls played bass on every track of Demon Days.