This page is a mess, does not meet Gorillaz Wiki standards, and requires overall cleanup.


---

Please help fix this article to make it meet proper standards by clicking the edit button.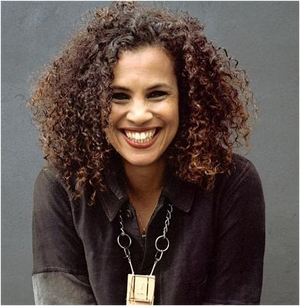 Neneh Cherry (b. March 10, 1964) is a Swedish-born singer-songwriter, rapper, and occasional DJ and broadcaster.
She was featured as a guest vocal in "Kids With Guns".
Career
Cherry said she found her voice singing along with Poly Styrene from X-Ray Spex. She grew up in a musical family: "Music was always there, it was like food in my house. But in my home I had never really found my own thing. I really identified with Poly, the voice. Culturally, she was mixed. I recognized her when I looked at her. One day I was singing along to their records, Germfree Adolescents or 'Oh Bondage Up Yours!', but I found my voice. And I'll never forget it happening." Her dad was singing at the piano, playing "Put Another Nickel in the Nickelodeon." Cherry remembers singing it with him in the voice she had found. "Oh look, I have a voice, it's been born. It was like an ejection, like a release button. It was like, here you go, do your own thing."
Discography
Solo Records
Raw Like Sushi (1989)
Homebrew (1992)
Man (1996)
Blank Project (2014)
Collaborations
With CirKus
Laylow (2006)
Medicine (2009)
With The Thing
Community content is available under
CC-BY-SA
unless otherwise noted.