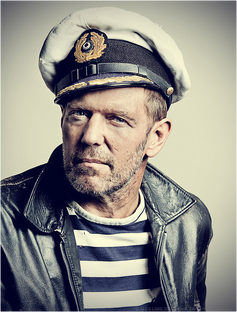 Paul Simonon (b. December 15, 1955) is an English musician and artist best known as the bass guitarist for punk rock band The Clash.
Musical Career
Paul Simonon is best known as the bassist of The Clash. After The Clash split up in 1986 Simonon started a new band, Havana 3am. He later formed the supergroup The Good, the Bad & the Queen with Damon Albarn, Simon Tong and Tony Allen. He would later reunite with The Clash guitarist Mick Jones in 2008 to play on Gorillaz 2010 album Plastic Beach and would later tour with them from October 2010 to December.
Role in Gorillaz
In 2010, Paul reunited with Mick Jones from The Clash and Damon Albarn on the Gorillaz album Plastic Beach, where he supplied basslines for the album. He is only credited on the song Plastic Beach along with Mick Jones.
He later became the bassist of the Gorillaz Live Band on the Escape to Plastic Beach World Tour, along with Mick Jones on guitar.
He could also be seen in the On Melancholy Hill video along side Mick Jones and the Rhinestone Eyes Storyboard along with the other Escape to Plastic Beach World Tour members. He was featured on The Making of Plastic Beach documentary, which was featured on the Plastic Beach Experienced edition CD.
He also provided bass for the track Aspen Forest from The Fall.
Gallery