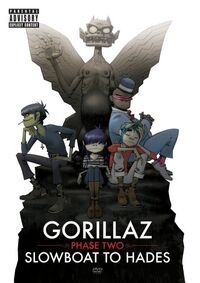 Slowboat To Hades is a Phase Two DVD that includes the full videos for the Gorillaz Phase Two singles, the MTV EMAs, Grammys and Brits live performances, the Gorillaz MTV Cribs episode, the Phase Two Gorilla bites, a new Kong Studio guide, a gallery, and short interviews. The DVD come bundled with a CD-ROM featuring games and wallpapers. It was released for all territories on October 30th, 2006.
Backstory
Slowboat To Hades is set in Kong Studios after the events of the El Mañana (Video). In the DVD, due to Noodle being gone from Kong, the place had started entering a place of disrepair. It is set to the familiar theme of the Phase One: Celebrity Take Down DVD, where its set in Kong Studios and you can find music videos, G-Bitez and more from the phase it was set in. At the time of Slowboat To Hades release even the website version of Kong Studios had started going into despair. This version of Kong Studios was completely computarised unlike the Celebrity Take Down DVD. In the DVD you can find Kong Studios destroyed. The lobby no longer had the contents it had before, the same went for the rest of Kong, with there not being a lot of contents. The DVD was missing the G-Shop, The Kitchen, The Balcony and Noodle's Room. The only residents on the Slowboat To Hades DVD was the Lobby Demon, Shaun Ryder's head in the Studio kitchen Fridge and the Polar Bear and Crocodile. At this time 2-D had left to get a law degree, Noodle was of course presumed dead, Russel had left Kong to make Gorillaz remixes and Murdoc had been left by himself, before leaving to take a journey around the world. Leaving Kong Studios completely empty of any Gorillaz members.
Contents
Rooms Featured
First Floor
Ground Floor
Basement
DVD contents
1. "Feel Good Inc." Video
3. "Dirty Harry" Video
5. "Feel Good Inc." animatic
6. "DARE" animatic
7. "Dirty Harry" animatic
8. "El Mañana" animatic
9. The Swagga
10. "Bill Murray"
11. "Spitting Out The Demons"
12. "Kids With Guns"
13. "People"
14. "Samba At 13"
15. "Murdoc Is God"
16. Demon Days album ad
17. Demon Days Live DVD ad
18. Demon Days Live Manchester mash up
19. Dare Ringtone ad
20. GES mobile games trailer
21. Celebrity Takedown DVD trailer
22. MTV Europe Music Awards performance
23. Feel up Live performance
24. Brit Awards 2006 performance
25. El Mañana Live in Harlem
26. Brit Awards rehearsals
27. Gorillaz Live in Harlem sting
28. Hip Hop Machine Ident (Russel Ident)
29. Mexican Jailer Ident (Murdoc Ident)
30. Fairground Ident (2D Ident)
31. Capsule Hotel Ident (Noodle Ident)
32. On The Island G bite
33. The lost G bite
34. Noodle VMA acceptance speech
35. Murdoc Alternative Queen's speech
36. Murdoc Record Company Thank You
37. Noodle's Dance Moves
38. MTV Cribs
39. Monk's montage
40. Polar bear gags
41. End Credits (Phase 2: Slow Boat To Hades)
42. Murdoc's Alternative Queen's Speech (Outtakes)
43. New York Live Puppet Intro
44. We Are Happy Landfill
45. Website Walkthrough, Kong Studios Tour
46. 2-D And Murdoc in New York
47. Feel Good Inc (Audio Commentary)
48. Murdoc 6.6.6 Animation
Bonus CD-ROM Contents
16 games with fullscreen mode: Russel's Animal Kwackers, Bowling, Russels Cookie Eating, Darts, Dirty Harry, Helly-Drop, Identikit, Operation, Potato, Santa Sleigher, Pumpomatic, Shooting Range, Mahjong, Murdoc's Attache, Tiles of the Unexpected, Bonesy Apple Bobbing; plus eight screensavers, 45 wallpapers and hidden achievement based extras.
Gallery
Slowboat To Hades Full Video