The Plastic Beach model is a physical representation of the island.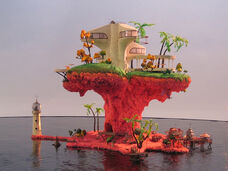 It was designed by Jamie Hewlett and Zombie Flesh Eaters, and then built by Asylum FX.
The three meters high model and all its accessories (consisting of boats, planes, submarines, and pirate galleon) were shot from different angles in a 50.000 litre circular water tank to promote the album. It's in particular the object of the different album covers.
We can see its conception in the making of DVD included in the Experience Edition of the Plastic Beach LP.
It's unknown where this model is stored at the moment, nor even if it still exists.
Credits
As seen in the digital experience booklet of the Plastic Beach album:
PLASTIC BEACH MODEL & SHOOT:
Director: Jamie Hewlett
Producer: Cara Speller
Editor: Seb Monk
Production Company: Zombie Flesh Eaters
Model:
Modelmakers: Asylum Models & Effects Ltd.
Mark Ward, David Plewis, Conor Breen, Kate McConnell, Lee Sutton, Roger Wotton, John Sims, Frank Farman, Michael Cox, David Payne, John Pennicott
Shoot:
DOP: Tristan Oliver
Production Manager: Patrick Duguid
Visual Effects supervisor: Neil Riley
Camera operator: Mike Metcalfe
Focus Puller: Jeremy Fusco
Grips: Jem Morton, Johnny Donne, Stuart Godfrey
SI 2K DIT: Steve Price
Technocrane Technician: Neil Tomlin
Motion control cameramen: Malcolm Wooldridge, George Theophanous
Motion control operator: Digna Nigoumi
3D Rig Chase: Andy Bull
Gaffer: Toby Farrar
Electricians: Jamie Khosravi, Paolo Fernandes
Riggers: Paul Wellstead, S. Sansom, Edward Sansom
Art Direction & Pre-visualisation: Painting Practice
Camera & Grip equipment: c/o Pete Moore at Take 2 film services
Motion control rig: c/o Rob Delicata at Visual Effects company Ltd.
Lighting equipment: c/o Eddie Dias at Panalux
Rigging equipment: c/o Vince Shaw at Metro Rigging