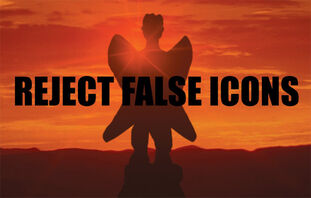 Reject False Icons was a Gorillaz marketing campaign to advertise their new video for the song, Rockit. Fans could download a file with the words "Reject False Icons" in white with a black background. The idea was for them to download it and print it off on sticky back paper and stick it onto false icons, for example, fashion magazines and pictures of models. The full line is "Respect False Icons, Reject False Icons".
According to Noodle, "Reject False Icons means many things, one of them is to think for yourself".
The phrase is meant to say that people should appreciate things like music and other media, but not idolize them. Also, they should pick what they like, not what the media likes. Ironically, the second half of the phrase is used by many people to shoot down what other appreciate (like other music artists) and idolize their own bands.
Trivia
The name of this campaign was one of the original names of Gorillaz's second album before the name was confirmed to be Demon Days.
Community content is available under
CC-BY-SA
unless otherwise noted.