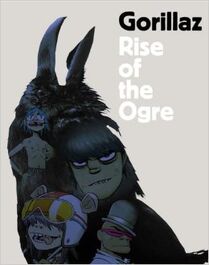 Rise of the Ogre is the autobiography of Gorillaz, written by Cass Browne and illustrated by Jamie Hewlett and Zombie Flesh Eaters. It was first published on October 26, 2006 in the United Kingdom and later on November 2, 2006 in the United States.
Description
"I tell you what, right, I can guarantee you're going to get some real juicy bits of Gorillaz info. I'll probably slag off loads of people, too. It'll be packed full of great shots from the sets of our videos, gigs, rehearsals, interviews...you name it. It's all in there. So place your order up front kids, this book going to be a scorcher!"
―Gorillaz bass-slayer
Murdoc Niccals
.
This stunning, full-colour hardback will be the most unique rock autobiography ever published. Gorillaz have always been as much about the visuals as they are about the music, and the autobiography will be a feast for the eyes. Featuring brand new art from and designed by Jamie Hewlett, this is the full story of Murdoc, 2-D, Noodle and Russel Hobbs for the first time. Included will be their emailing with their motley crew of collaborators, from Ike Turner to Shaun Ryder, and accounts of the gigs, the movie (for the first time), the videos and the website - including the low down on Kong Studios, their legendary HQ. It is an essential purchase for a legion of fans.
Audiobook
Rise of the Ogre has also released a four-part audiobook single of the book, being the first ever to be done.
The four singles were narrated by Josh Ackland. Intially iTunes exclusive, one part was released every week for four weeks beginning December 4th 2006.
However, the audiobook remains incomplete, as only the first few chapters of the book were ever narrated.
Trivia
The back cover of the book features Jamie's interpretation of what all of the band would look like combined.
The audiobook features the only existing recording of Paula Cracker's voice.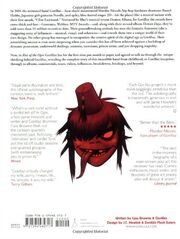 On the back cover of the paperback version, there is an image of 2D wearing a fez hat much like Russel's, including multiple words of feedback from different people. Murdoc states the book is 'better than the Bible' and gives it five stars.
At the front of the book, there is a 'Demon Disclaimer' stating the information is not all true, 'especially the stuff Murdoc says'.
There are a few slight differences between the paperback version and the hardcover version. One being, in the interlude, the paperback version has a picture of El Diablo while the hardcove shows Noodle's Vauxhall Astra.