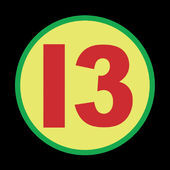 Samba At 13 is a song by Gorillaz, first appearing as a B-side track on the single "DARE" and subsequently featuring as a Japanese exclusive bonus track on D-Sides.
The track principally comprises drumming performed by members of the London-based Paraiso School of Samba. The opening speech sample is from a 1960s workout LP by American exercise instructor Debbie Drake.
Lyrics
Number thirteen: standing with your feet apart, and your hands on your waist.

Then forward and back, forward and back, forward and back.
Video
Trivia
For a split second at the beginning of the video, the birds flying past the title card fly in reverse before reverting to flying forward.
The track was never commercially released in the US, but was posted with an official video on the official YouTube channel and on Apple Music, appearing there as a single despite not being one.