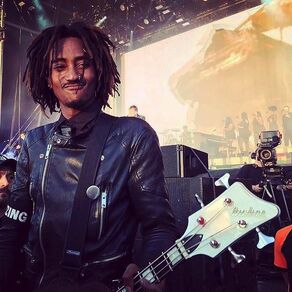 Seye Adelekan is a British musician, singer-songwriter, and multi-instrumentalist. He is the live bassist for Gorillaz since 2016.
Role in Gorillaz
Adelekan is Gorillaz' live bassist, serving as the bassist for the band for their concerts during the Humanz Tour and The Now Now Tour as well as Song Machine Tour. Sometimes he also provides additional guitar.
Seye provided ukulele for the track Revolving Doors from The Fall.[1]
He has described himself as 'Murdoc's counterpart'. In the Tranz video, the way Ace moves is loosely based on the way Seye moves. He said in an Instagram livestream a month before the Tranz video premiered that "When you look at the new video, you'll notice that Ace moves a bit like me.".
Musical Career
Seye has been working with Damon Albarn since 2011, when he became the bassist for the live band of the musical collective Africa Express. Albarn also used Seye as the bassist and guitarist for The Heavy Seas, which is the live band of his 2012 Everyday Robots solo tour. In 2016, he became the bassist of Gorillaz for live shows for the Humanz Tour and continues to be the live bassist for Gorillaz in The Now Now tour.
In 2016, Seye formed the supergroup YOTA: Youth of the Apocalypse with fellow Gorillaz' live bandmate Jeff Wootton, Klaxons' frontman Jamie Reynolds, drummer Jay Sharrock, rapper Young Lazurus and DJ Twiggy Garcia. Youth of the Apocalypse released the song Drop The Bomb (featuring MF Doom) on June 1st 2018, with the music video being released on July 10th 2018. Youth of The Apocalypse were originally set to headline the 2018 Demon Days Festival in Los Angeles, but ultimately cancelled their appearance and eventually broke up.
Trivia
References