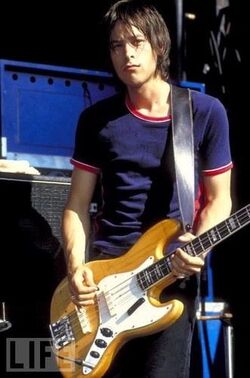 Simon Robin David Jones is an English bass player and multi-instrumentalist. He played rythm guitar in the Demon Days Live Band from 2005-2006.
Role in Gorillaz
In 2005, he performed with the Gorillaz Live Band for Demon Days, playing guitar at the Manchester Opera House, alongside Simon Tong, his bandmate from The Verve. He later played at the New York Apollo theatre in 2006, maintaining his role as the rhythm guitarist.
Musical Career
Simon Jones is best known as the bassist and backing vocalist for the English band The Verve. When The Verve split in 1999 due to in-band tensions, Jones played bass and wrote songs for the short lived band The Shining, who former Verve bandmate Simon Tong also played with. In 2003, Jones was the bassist for Howie Day on Day's album, Stop All The World Now and since 2004, Jones has been an official member of the backing band for Cathy Davey. In 2015 Simon was featured on the Out of the Hive Ep by Scottish band, Boletes.