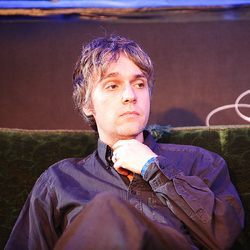 Simon Tong (b. 9 July 1972 in Farnworth, Lancashire) is an English guitarist and keyboardist.
Musical Career
Simon Tong was a member of The Verve between 1996 and 1999 and is currently a member of Erland and the Carnival, Transmission and The Magnetic North. Following Graham Coxon's departure from Blur in 2002, Tong was recruited as guitarist for some of the band's live performances. He played on tour with Blur, Gorillaz and The Good, the Bad & the Queen. He ranks in BBC's "The Axe Factor" as the 40th greatest guitarist of the latest 30 years.
Role in Gorillaz
After his work with Blur he continued the relationship formed with frontman Damon Albarn by contributing guitar to Gorillaz' 2005 album Demon Days. He played guitar on the tracks Last Living Souls, O Green World, Feel Good Inc., El Mañana and All Alone. Tong also contributed guitar to Gorillaz' 2010 album Plastic Beach. He played guitar on Empire Ants, Glitter Freeze and Cloud of Unknowing. He was featured on the documentaries 2008s Bananaz and 2010s The Making of Plastic Beach.
Trivia