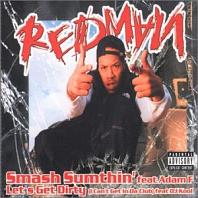 Let's Get Dirty (Gorillaz Remix) was the first track to be remixed by the Gorillaz for another artist. 'Let's Get Dirty (I Can't Get In Da Club) feat. DJ Kool' to give it its full title is a track by the artist Redman. Obviously negotiations between the Gorillaz and Redman camps took place sometime in the second quarter of 2001, Jamie and Damon talking in interviews from this time about how 'Russel is going to remix a track for Redman'.
Russel also had a section on the official fan-site fans.gorillaz.com where he talked about some of his favorite artists, and mentioned there that he was going to remix a track for Redman. However the remix was a long time in coming, and by the time it first emerged it late August 2002, it was credited to 'Gorillaz' not Russel.
Its full title is 'Gorillaz Remix - Extended Mix' though no Gorillaz Remix simplicity has ever been observed. The remix got a commercial release on the UK and German CD singles for 'Smash Sumthin (although in the Uk, 'Let's Get Dirty' was promoted almost as much as the A-side proper, and a large sticker announced the fact that a Gorillaz remix was included in the package, using the official Gorillaz logo. In the US Let's Get Dirty was promoted by a record including the original track and the Gorillaz remix).
Audio Video
Release dates and chart positions
UK: 10/09/02 - highest chart position: 11 GERMANY: unknown release date - highest chart position: unknown