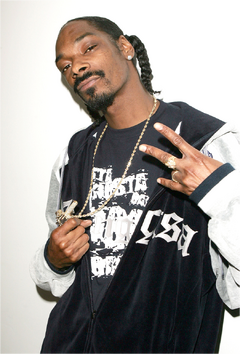 Cordozar Calvin Broadus Jr. (b. October 20, 1971), best known as Snoop Dogg, is an American rapper, singer-songwriter, and actor. He has sold over 30 million albums worldwide.
Role in Gorillaz
Snoop was featured in the Gorillaz' album Plastic Beach on the track Welcome to the World of the Plastic Beach with Hypnotic Brass Ensemble. He also collaborated with Gorillaz on the track Sumthin Like This Night from his album Doggumentary. He appeared in the On Melancholy Hill music video and on Welcome to the World of the Plastic Beach visualiser.
He was featured later on the Gorillaz 2018 album The Now Now on the track Hollywood along with Jamie Principle. He also made an appearance in the visualiser for Hollywood.
Musical Career
His music career began in 1992 when he was discovered by Dr. Dre. He collaborated on Dre's solo debut The Chronic (1992), and on the theme song to the feature film Deep Cover.
Discography
Studio albums
Doggystyle (1993)
Tha Doggfather (1996)
Da Game Is to Be Sold, Not to Be Told (1998)
No Limit Top Dogg (1999)
Tha Last Meal (2000)
Paid tha Cost to Be da Boss (2002)
R&G (Rhythm & Gangsta): The Masterpiece (2004)
Tha Blue Carpet Treatment (2006)
Ego Trippin' (2008)
Malice n Wonderland (2009)

Doggumentary

(2011)
Reincarnated (2013)
Bush (2015)
Coolaid (2016)
Neva Left (2017)
Bible of Love (2018)
I Wanna Thank Me (2019)
From tha Streets 2 tha Suites (2021)
Collaboration albums
Snoop Dogg presents Tha Eastsidaz with Tha Eastsidaz (2000)
Duces 'n Trayz: The Old Fashioned Way with Tha Eastsidaz (2001)
The Hard Way with 213 (2004)
Mac & Devin Go to High School with Wiz Khalifa (2011)
7 Days of Funk with 7 Days of Funk (2013)
Royal Fam with Tha Broadus Boyz (2013)
Cuzznz with Daz Dillinger (2016)
Gallery