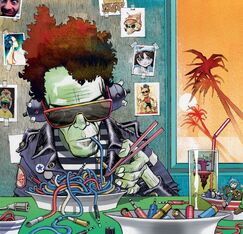 Some Kind of Nature is the ninth track on Gorillaz' 2010 album "Plastic Beach".
Band member Murdoc Niccals stated the following about "Some Kind of Nature" in a track-by-track commentary:
"I grew up on Lou Reed, and the Velvets. And I loved Lou's solo stuff, 'Magic and Loss' and 'The Blue Mask' and 'Transformer' of course.
It's funny. This track's got a good ol' sunshiny vibe. Like something off Sesame Street. Apparently Lou Reed is one of the only people to never appear, or refuse to appear, on Sesame Street. So it's quite a coup that we got him on this.
I recorded with Lou over in New York and he wanted to do his whole vocal thing in private, on his own. He ordered everyone out the studio. Me too. I love Lou, but y'know: this is my album. I wanna know what's going down. Still, his track... wow! Solid gold."
Some kind of nature some kind of soul
Some kind of mixture some kind of goal
Some kind of majesty some chemical load

Some kind of metal made up from glue
Some kind of plastic I can wrap around you
The needy eat man mades they wear phony clothes
They sit with barbiturates until they grow old

Some kind of nature some kind of soul
Some kind of mixture some kind of goal
Some kind of majesty some chemical load

While me I love plastics and digital foils
To wrap up the sound and protect the girls
From the spiritual poison we expel at night
Like phony clothes but I really like might

Some kind of nature, some kind of nature, some kind of soul
Come forth within us
Oh lord forgive me
Some kind of mixture some kind of goal
It's gonna come and find us
All we are is stars

Some kind of metal made up from glue
Some kind of plastic I can wrap around you
The needy eat man mades they wear phony clothes
They sit with barbiturates until they grow old

Some kind of nature some kind of soul
Come forth within us
Oh lord forgive me
Some kind of mixture some kind of goal
It's gonna come and find us
All we are is stars
Video
References
↑

"Plastic Beach [Japanese experience edition]", TOCP-66950, booklet pp.18-19