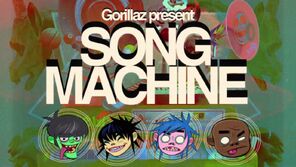 Song Machine is an audiovisual project by Gorillaz. It is a web series consisting of a collection of singles and music videos that are released as "episodes" of the series, with each episode featuring additional guests.[1] Most episodes are released with interludes called Machine Bitez, short skits consisting of conversations between the band members and interviews with Song Machine's guests. The project was officially launched on 30 January 2020.[2] Season One of Song Machine consists of 9 regular episodes and was released as an album titled Song Machine, Season One: Strange Timez on 23 October 2020. Season Two was announced way back in late 2020, though a release date has not been set.
Premise
Song Machine centers around the adventures of British virtual band Gorillaz and the various events they experience through their haunted headquarters at a newly revamped Kong Studios in West London, which contains various portals through which the band visits the guests or transports them to Kong, while recording music for their newest project, Song Machine.
Each episode of Song Machine is accompanied by short segments called Machine Bitez, a series of character skits featuring snippets of conversations and interviews with Song Machine's guests from Gorillaz' virtual band members. Some episodes take on an interview format between 2-D and a Song Machine collaborator, while others involve the Gorillaz band members discussing the production and process of creating the music or the events that took place in an episode.
During the course of the Season One of Song Machine a lot of additional content from the band members was released in the forms of series of postcards and telegrams as well as Murdoc's short series Debunked. Thirteen official Lyric Videos for the Song Machine tracks were made. Gorillaz released Gorillaz Almanac, first official book since 2006's Rise of the Ogre. In late 2020 band members hosted special series of radio shows called Song Machine Radio on Apple Music. In December special three livestreams of Song Machine Live took place. Half a year later Song Machine Tour started. Gorillaz collaborated with brands such as Fred Perry, Superplastic, Barnfathers Hot Sauce and Anker. Additionally it was confirmed that a Gorillaz Movie is being developed by Netflix.
All Song Machine episodes were produced by the London-based animation studio The Line, directed by Jamie Hewlett, Tim McCourt and Max Taylor, produced by Eva Dahlqvist and edited by Jamie Hewlett.
Episode List
Season One: Strange Timez (2020)
Season Two (2022)
TBA
Singles Tracklist
"Song Machine Theme Tune" (28 January 2020)
"Song Machine Theme Tune" - [0:24]
Season One: Strange Timez
"Song Machine Episode One" (30 January 2020)
"Song Machine Episode Two" (27 February 2020)
"Machine Bitez #4" - [0:35]
"Désolé" (feat. Fatoumata Diawara)- [3:57]
"Machine Bitez #5" - [0:46]
"Song Machine Episode Three" (9 April 2020)
"Machine Bitez #6" - [0:55]
"Aries" (feat. Peter Hook and Georgia) - [4:13]
"Machine Bitez #7" - [0:36]
"How Far?" Special Episode (2 May 2020)
"How Far?" (feat. Tony Allen and Skepta) - [2:46]
"Song Machine Episode Four" (9 June 2020)
"Machine Bitez #8" - [0:50]
"Friday 13th" (feat. Octavian) - [3:35]
"Song Machine Episode Five" (20 July 2020)
"Song Machine Episode Six" (9 September 2020)
"Song Machine Episode Seven" (1 October 2020)
"Song Machine Episode Eight" (5 November 2020)
"The Valley of the Pagans" (feat. Beck) - [3:01]
"Machine Bitez #17" - [0:36]
"Machine Bitez #18" - [0:36]
"Song Machine Episode Nine" (24 December 2020)
"The Lost Chord" (feat. Leee John) - [4:03]
Season Two
TBA (2022)
"TBA" (feat. Bad Bunny)[4]
Trivia
Gallery
References
SONG MACHINE

Ep. 1
Ep. 2
Ep. 3
Special
Ep. 4
Ep. 5
Ep. 6
Ep. 7
Ep. 8
Ep. 9