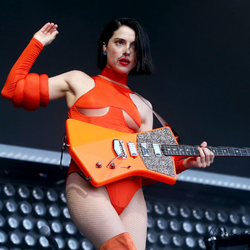 Annie Erin Clark (b. September 28, 1982), better known as St. Vincent is an American musician, singer, songwriter, music producer and actress.
Role in Gorillaz
St. Vincent provided vocals and keyboards on the track Chalk Tablet Towers from Gorillaz' seventh studio album Song Machine, Season One: Strange Timez.
Musical Career
In her early career Annie Clark was a member of the group The Polyphonic Spree and a member of Sufjan Stevens's touring band. In 2006 she formed her own band. She released her debut album, Marry Me, in 2007. Her fourth solo album, St. Vincent, was named 2014's album of the year by The Guardian, Entertainment Weekly, NME, and Slant and won her a Grammy for Best Alternative Album. Masseduction, Clark's fifth studio album, released in 2017, earned two awards at the 2019 Grammys, those being Best Rock Song for the album's title track and Best Recording Package. In 2018, two of St. Vincent's songs were included in NPR's 200 Greatest songs by 21st Century Women: Digital Witness placed at number 181 and Cruel at number 38.[1] In 2021 she released her most recent album, Daddy's Home.
Gallery
References