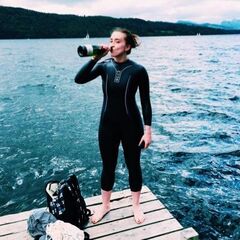 Stars Redmond is a British music manager and marketer who is currently the head digital marketing manager at Eleven Management and previously worked for EMI and Island Records. She has been a part of Eleven MGMT since 2016. She is the founder of the company 'Sweet!' and has also managed for AlunaGeorge.[1]
Role in Gorillaz
Stars Redmond is Gorillaz' head digital marketing manager and has been so since the band's return in 2016.
With Gorillaz being inactive for seven years at the time Gorillaz' Instagram was set up, there had been drastic change technology and social media. Gorillaz had 17 years worth of rich history and background that had not yet been fully retrospected in an in depth, chronological fashion. She noticed this and brought it to Gorillaz' Instagram page, which became a massive success gaining 1.2 million followers in just 12 months and still gaining a large amount of followers to this day.[2]
Stars Redmond is also the creator of Gorillaz' Spirit House app for iOS and Android devices.[3]In 2017, Gorillaz' Spirit House app won a Gold Lion award at the Cannes Lions International Festival of Creativity.[4] It is the world's first app to be used for a global listening party of an album.[5] Stars is also one of the people involved in the production of Gorillaz first magazine, G-Magazine[6] and Gorillaz Almanac.
She provided assistance with additional artwork for The Now Now and Song Machine, Season One: Strange Timez.
External Links
References