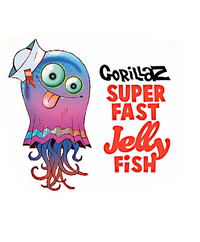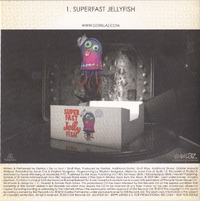 Superfast Jellyfish is the sixth track and second single on Gorillaz' 2010 album "Plastic Beach". It features the talents of Gruff Rhys and De La Soul.
Although a raft of remixes were issued as promos, and the track is included on The Singles Collection 2001-2011, it never became a full retail single, being dropped from the Gorillaz release schedule in favour of "On Melancholy Hill".
Band member Murdoc Niccals stated the following about "Superfast Jellyfish" in a track-by-track commentary:
"When you think about Gorillaz, it makes sense to have a Super Furry Animal on there, doesn't it? I've always loved them, so I sent a jet over to pick Gruff up and take him over here.
A lot of fun, this track. If you turn it up loud enough all the colours start spilling and washing out of the speakers. You could flood your room with a track like this."
Music Video
With the release of Plastic Beach album, the official music video was made available for download to users that purchased the Deluxe Edition of the album. It was also made available for purchase and download on iTunes. The music video opens with a black and white scene depicting a disheveled man crawling out of bed. The man then realized that it was time for breakfast and pulls out a box of Superfast Jellyfish before stuffing it into the microwave. After several seconds of waiting, a technicolour animated jellyfish pops out of the box to greet the man who was anxiously waiting for breakfast. The jellyfish then floats out of the microwave and engages in an elaborate psychedelic dance sequence with the man; accompanied by an entire school of jellyfish. The video ends with a black and white closeup of the man devouring the colourful jellyfish and slurping its tentacles into his mouth.
The Remixes CD tracklisting
This morning you've got time for a hot home-cooked breakfast
Delicious and piping hot in only three microwave minutes
Are you kidding!?

Yo, pretty packages of frosted delights
Look it comes with a toy
I like that I want a number four, number six
And throw in a plastic doughnut
Just enjoy the gritty crunch that tastes just like chicken
Wrappers of many bite sizes
Man, are you freaking blind?
That's a rock
All mixed in the potful
Momma's homemade from scratch, well not quite
Toasted over flames they be tasting quite right

All hail King Neptune and his water breathers
No snail thing too quick for his water feeders
Don't waste time with your net
Our net worth is set
Ready, go many know others
We be the colors of the mad and the wicked
We be bad, we re-brick it
With the twenty-four hour signs
Shower mine happens
While you dine like rabbits
With the crunchy, crunchy carrots
Oh that's chicken
Gotta have it super fast

A whole line of breakfasts you've got time for

Super fast, super fast
I come in last
But just in time for breakfast
Keep it through, keep it through, forever blue
The night, the night throws at us
Aluminum, I crush for fun, aluminum
The sea is radioactive, the sea is radioactive

All hail king Neptune
And his water breathers
No snail thing too quick for his water feeders
Don't waste time with your net
Our net worth is set
Ready, go many know others
We be the colors of the mad and the wicked
We be bad, we re-brick it
With the twenty-four hour signs
Shower mine happens
While you dine like rabbits
With the crunchy, crunchy carrots
Oh that's chicken
Gotta have it super fast

Super fast, super fast
I come in last
But just in time for breakfast
Keep it through, keep it through, forever blue
The night, the night throws at us
Aluminum, I crush for fun, aluminum
The sea is radioactive, the sea is radioactive

Superfast jellyfish (x4)
(Don't waste time)
Superfast jellyfish (x2)
(The sea, has gone silent)
(What!)
(Everybody loves jellyfish!) (x4)
Superfast jellyfish (x18)
Video
Trivia
The titular Jellyfish has made several appearances in the other forms of media.

In the "Stylo" music video, the police car went crashing right through a billboard containing an advertisement for Superfast Jellyfish.
In the "On Melancholy Hill" music video, the fleet of submarines encountered a swarm of Superfast Jellyfish on their way to Plastic Beach, shredding a few in the process.
In the "Escape to Plastic Beach" game, the jellyfish can be seen underwater as Murdoc swims to save 2-D and Cyborg Noodle.
In one of the two screensavers available in the Plastic Beach Experience edition of the album, several Superfast Jellyfish are seen swimming across the screen.
This song transitions into the next track on the album, Empire Ants , perfectly
References
↑

"Plastic Beach [Japanese experience edition]", TOCP-66950, booklet pp.15-16