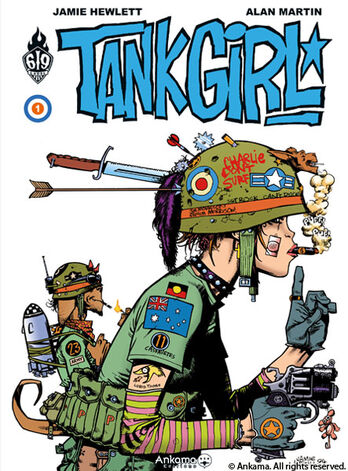 Tank Girl is a British post-apocalyptic science fiction comic book series created by artist Jamie Hewlett and writer Alan Martin in 1988 for Deadline magazine. Although it was originally drawn by Hewlett in its initial run, throughout the years, since 1995 it has also been drawn by artists such as Phillip Bond, Rufus Dayglo, Ashley Wood, Glyn Dilon, Jim Mahfood, Mike McMahon, and various others.
Plot
Set in a post-apocalyptic Australia, the series stars Tank Girl (Rebecca Buck), a tank driver who lives in her tank with her kangaroo boyfriend Booga. She was the member of a mysterious organization before making a serious mistake and being declared an outlaw for substance abuse and sexual inclinations. The comic stars Tank Girl and her mutant kangaroo boyfriend Booga as they go on various misadventures together.
Style
Tank Girl is a comic strip that has very little, if any, plot and narrative attached to it and mostly focused on being as surreal, chaotic, and psychedelic as possible. The style of Tank Girl is largely influenced by Punk art and British pop culture (even though it is set in Australia). Much of the strip's style consists of surrealism, collages, improvisation, cut-up techniques, and fanzines.
Tank Girl has gone through many different looks and style while being drawn by many other artists after Hewlett.
History
As residents of Worthing in England, Hewlett and Martin first met each other in the mid-1980s as teenagers. At the time, Martin was in a band with Phillip Bond called University Smalls. "Rocket Girl", a track from the band, was named after a student from college who Bond had a crush on who resembled a character from the alternative comic Love & Rockets.
While the three were working on a magazine called Atomtan, Hewlett drew "a grotty looking beefer of a girl brandishing an unfeasible firearm". Their friend was apparently working on a project for a design of a pair of headphones and based the design on the type used by World War II tank driver. Martin gave Hewlett a photocopy of a picture of combat vehicles, which Jamie would use as the background for an illustration of a character of his and called the picture "Tank Girl".
Originally, the image was posted on the Atomtan fanzine in a one-page advertisement, but the character would then go on to become a part of a comic strip for Deadline in 1988.
Cultural Impact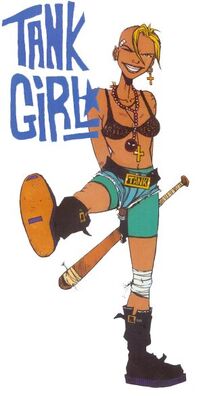 Tank Girl would quickly become a counterculture icon, being considered a representation of the growing empowerment of Women in punk rock culture. Various merchandise such as shirts and underpants were made and started to appear everywhere. In fact, one such piece of merchandise would even be made for the march against Clause 28, a clause by Margaret Thatcher's legislation that stated that a local authority "shall not intentionally promote homosexuality or publish material with the intention of promoting homosexuality" or "promote the teaching in any maintained school of the acceptability of homosexuality as a pretended family relationship". Tom Astor, a publisher at Deadline magazine once said "In London, there are even weekly lesbian gatherings called 'Tank Girl nights.'"
The popularity of Tank Girl would continue to grow even larger after Penguin, the biggest publishing company in Britain, ordered rights to collect the strips for a book, and soon, the strip would be published worldwide in various countries such as Germany, Spain, Italy, Brazil, Argentina, Japan, and even the United States.
In 1995, the comic strip would be adapted into a feature-length film directed by Rachel Talalay. The film would star Lori Petty, Naomi Watts, Ice-T, and Malcolm McDowell. It would be released as a box-office failure with largely negative reviews, but still, gain a cult following. To this day, Alan and Martin themselves have been highly critical of the film.
Tank Girl comic strips are still being published today, with the most recent issues being drawn by Brett Parson.
Quotes
Look, if you want to torture me, spank me, lick me, do it. But if this poetry shit continues, shoot me now, please. - Lori Petty as Tank Girl (1995) 
Impact on Gorillaz
Hewlett has once stated that Tank Girl and Gorillaz are set within the same universe. When a fan asked if they were in the same universe, Hewlett responded with "All of these characters take place in my universe, so yes the same."[1] Before Gorillaz, Albarn's other band Blur made various cameo appearances in many of Hewlett's projects, including Tank Girl in an issue where Blur's guitarist Graham Coxon saves the day with a very bouncy inflatable castle.[2]
Del The Funky Homosapien said that the main reason he decided to contribute to Gorillaz' debut album was that he was a big fan of Tank Girl. Dan The Automator, at the very last minute of finishing Deltron 3030's debut record, asked Del to do the rapping on Clint Eastwood to replace the original rappers Phi-Life Cypher. Initially, Del didn't want to, but after Dan explained the concept and showed him the art, Del immediately recognized Hewlett's art style from being the same artist that drew Tank Girl, the comics of which he collected in the early 90s. After learning about Hewlett's involvement in the project, Del agreed to be a guest on the album.[3]
In fact, especially in phase one, the majority of rappers who collaborated with Gorillaz at the time were more excited to meet Jamie than Damon, as they were all fans of animation and comic books, and loved Tank Girl. Jamie explains this in the book Can Rock & Roll Save the World?: An Illustrated History of Music and Comics by Ian Shelly, saying "When we started doing Gorillaz, me and Damon went to America to meet rappers to work on the album. We met up with the Wu-Tang Clan and D12 and they were all comic book fans. All these hip-hop guys are into comics and animation and kung fu movies, and of course, knew Tank Girl. With Damon, they were like "Uh, yeah, uh, we think we know your stuff." With me it was, 'Tank Girl! You're my man!' because they all read fucking comics, it is so widespread. It was funny.".[4]
Gallery
Trivia
References