The Apex Tapes is a interview CD by Gorillaz.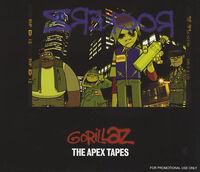 Information
It is a relatively common promotional device in the record industry today to circulate interview CDs as promotional tools for a forthcoming release. Usually these do not have the interview questions on them, as it is assumed that if radio or television wants to broadcast parts of the interview they will either pose the question themselves (then play the track), or cut in the recorded interview answer after making a general comment. For example they might say that the artist is now happier recording music with a harder sound, then play an interview section where the artist says 'Yeah I'm really easier working with heavier stuff now.' etc. What made the interview CD all the more important with the Gorillaz was the fact that, not being a 'real' group, it was hard to interview them properly (they did do some live radio interviews in the early days, some of which were featured in Murdoc's original Winnebago). Interestingly the CD includes 'introductions' of the song "5/4" as 'their new single'. This ties in with the fact that development of a promotional video was started for this song as evidenced on the first Gorillaz DVD 'Celebrity Take Down'.
Release dates and chart positions
This was never commercially released. It circulated in the UK for promotional purposes in March 2001.