The Humanz Choir is a Gorillaz choir created in 2016 to provide background vocals for the album Humanz.
Studio Choir
The studio lineup of the Humanz Choir provided backing vocals on the tracks Ascension, Strobelite, Saturnz Barz, Momentz, Submission, Let Me Out, Hallelujah Money, Halfway To The Halfway House, Out Of Body, and Circle Of Friendz.
Some of their recording sessions can be seen in the first act of the 2019 Gorillaz documentary Reject False Icons.
Members
Rasul A-Salaam
Starr Busby
Melanie J-B Charles
Drea D'Nur
Giovanni James
Marcus Anthony Johnson
Janelle Kroll

Brandon Markell Holmes

Imani Vonshà
Live Choir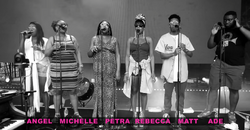 The Humanz Choir Live was created later than the studio lineup, with the intention of preforming additional vocals live during the Humanz Tour. The live choir later performed on The Now Now Tour, Song Machine Live and Song Machine Tour.
Some members of the choir sometimes take on the main vocals on some of the songs performed live, those being DARE, Out of Body, Kids With Guns and Sorcererz.
Members
Adeleye Omotayo - (2017 - present)
Angel Williams-Silvera - (2017 - present)
Marcus Anthony Johnson - (2017 - 2018)
Matthew Allen - (2017 - 2020)
Matt Maijah - (2021 - present)
Michelle Ndegwa - (2017 - present)
Petra Luke - (2017 - present)
Rebecca Freckleton - (2017 - present)